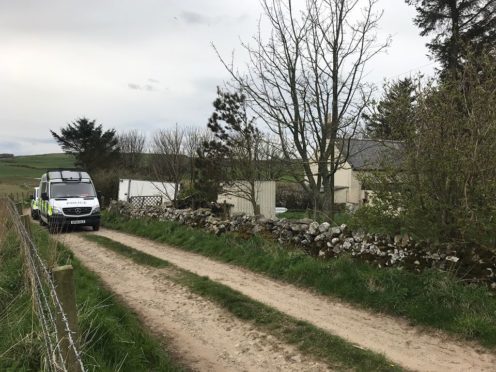 Villagers have described dozens of police teams swarming their community after a large-scale marijuana operation was uncovered.
Officers have been posted at New Aberdour since Sunday when they raided a farmhouse and found a cannabis cultivation worth about £380,000.
A Vietnamese man has since been charged with offences including being concerned in the growing and supply of drugs.
Cannabis farm rumbled after heating makes it only snow-free property on street
Quynh Mai, 22, appeared in private at Peterhead Sheriff Court yesterday, where he was also faced charges of attempting to pervert the course of justice and breaching legislation relating to the use of an electricity meter.
He made no plea and was remanded in custody.
Last night, neighbours said the occupants of the house at the centre of the police raid had been reclusive individuals who "had kept to themselves".
One woman, who did not want to be named, said: "They were always going back and forth and the curtains were always drawn."
"Over the last couple of days it has been the police we have seen going back and forth.
"Officers were there on Sunday night and again on Monday night. We saw them at the house with white forensic suits on and there have been so many cars and vans."
Another local, Faith Bowman, said: "There were lots of police comings and goings, with marked and unmarked cars and vans.
"They were up and down all day. I even saw a Scottish and Southern Electric van."
Officers made the discovery in the tiny village – which has a population of about 330 – following a tip-off.
And last night, local councillor Mark Findlater said it was a "good example" of a community working together.
"I take my hat off to them," he said.
"Police work relies on people coming forward and that's what they've done.
"They've done the right thing."
Meanwhile, Detective Sergeant George Nixon said inquiries were on-going about the find.
"This is a recovery of a significant amount of illegal drugs which would have been bound for our communities," he said.
"We are determined to continue to stop those intent on making money from the illegal sale of drugs, which only serves to cause harm to the communities of the north-east.
"Anyone with concerns about drugs in their community or who sees anything unusual or suspicious should contact police and any information will be taken seriously and acted upon."
Anyone with information about the cannabis in New Aberdour is urged to contact police on 101 or Crimestoppers anonymously on 0800 555 111.