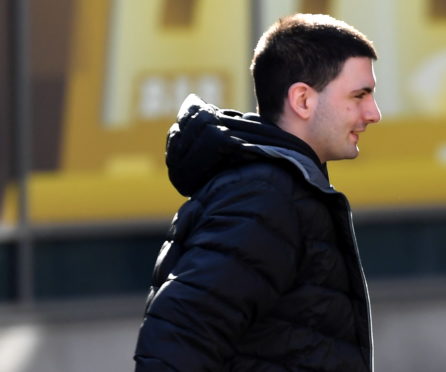 A 10-year-old boy who was allegedly knocked down by a moped will have to wait more than a decade to have his teeth repaired, a trial has heard.
Paul Jessiman is on trial accused of mowing down the boy by driving a moped dangerously in the Cornhill area of Aberdeen on September 3, 2017.
Jessiman, of Gladstone Place, Aberdeen, denies the charge and insists he found the boy hurt and tried to help him.
The 20-year-old is also alleged to have failed to report the crash to police.
The boy's father, who previously told jurors at the sheriff court that his son looked like he had been "blown up" when he found him, continued his evidence yesterday.
The jury was shown photographs of the then eight-year-old after he under went surgery, including 27 internal stitches inside his mouth.
The images showed the boy lying in his hospital bed with his mouth battered and swollen and the side of his head bruised.
His father said that the pictures did not even show the full extent of the trauma because it was after his teeth, which had been knocked out but ultimately could not be saved, had been "rammed back in".
"It looked like a shotgun wound," he told Aberdeen Sheriff Court.
The jurors heard that because he had suffered a head injury the boy couldn't be knocked out while he was being operated on.
His father said: "And it's still not over, no one's crueller than kids and he's been ridiculed because none of his teeth fit him – he's been through about nine sets of teeth so far.
"They just don't work, some of them get knocked out with Doritos."
---
>> Keep up to date with the latest news with The P&J newsletter
---
He told the court that that ultimately the boy will have to have part of his hip removed and inserted into his mouth so he can have dentures fitted – however this operation will have to wait until he is 21.
He added his son has also suffered from headaches since the incident and has had to give up playing football because heading the ball was making the issue worse."
The boy's mum also gave evidence and said that in the aftermath of the incident, she had begged for Jessiman to call an ambulance but he repeatedly refused to hand his phone over.
Under cross-examination by defence agent Graeme Morrison, both said they did not see what led up to their son being injured, but assumed that Jessiman and his associate William Dunlop had been involved because they were at the scene.
They also said that Jessiman was "cradling" him when they arrived at the scene which was preventing him from choking on his blood.
The boy's dad denied hitting either Jessiman or his associate but said there had been "pushing and shoving" and shouting and swearing as he attempted to get Jessiman's phone.
Ross Couttie, who raced out to help after hearing a scream from his nearby flat, however, told the jury he saw the boy's dad throwing a punch.
Meanwhile Mark Hail told the jury that he had sold Jessiman the moped in question just days before the alleged crash.
Mr Hail said the vehicle did not have an MOT and also had a problem with its brakes.
When asked by fiscal depute Katy Begg, prosecuting, whether he would have used the bike on the roads he said he would not.
"The efficiency of stopping would be dramatically reduced or make it unable to stop," he said.
However he later told Mr Morrison that the specific brake problem would have created more of a problem with starting the bike than stopping it.
The trial, before Sheriff Morag McLauchlan, continues.