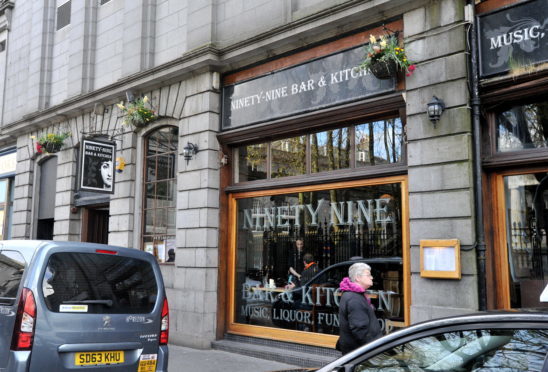 The owners of an Aberdeen bar blamed a high staff turnover as they were fined thousands of pounds for a string of hygiene breaches.
Health inspectors found out-of-date food, a mouldy ice freezer and allergens in frying oil when they visited Bar Ninety-Nine on Back Wynd.
Parent company Monkey Bars Aberdeen was fined £4,600 at the city's sheriff court yesterday after previously admitting 13 charges of breaching food safety regulations and failing to comply with improvement notices.
The charges relate to a seven-day period, from August 24-30 last year.
Documents lodged by the prosecution revealed that some items had been stored for several weeks past their use-by dates.
The court heard that some kitchen records had not been completed for several months, while the door between a kitchen toilet and the surrounding area had been left open – raising the possibility of germs contaminating food.
It also emerged that inspectors found rust on fridge shelves and "considerable mould growth" on the lid of an ice freezer.
Solicitor Kathleen Lawson said the problems began during an "uncharacteristic" period of high staff turnover – including six head chefs in quick succession.
She said: "This was a genuine misunderstanding rather than complacency or an attempt to cut costs.
"It was due to changes taking place within the business which led to a degree of a loss of control.
"A system was in place but it's accepted that it was not being followed fully or adequately."
Ms Lawson explained that the out-of-date items had been left in a fridge after a menu revamp meant they were no longer required.
She stressed that the risk posed to public health was low, and that no diner ever fell ill as a result of eating there.
She told the court that health inspectors conducted an unannounced inspection earlier this year, with the bar receiving a passing grade.
Sheriff Ian Wallace said: "Hygiene at Ninety-Nine was poor and not what anybody would expect. More than that, the risk to the health of members of the public is obvious.
"The risks were at the low end and, to some extent, I accept that. But hygiene is important.
"You failed to meet these standards and that must have consequences."