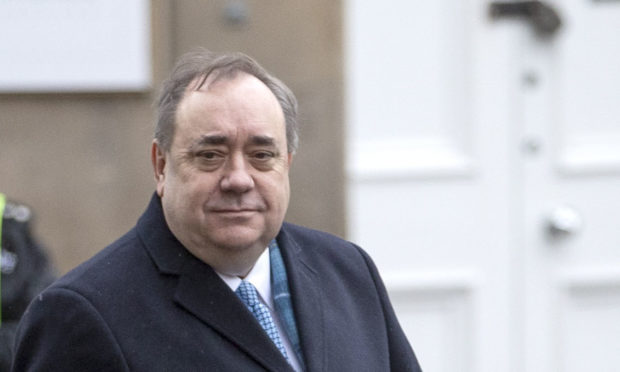 A former Scottish Government official has insisted she never had any consensual sexual activity with Alex Salmond.
Woman H, who accuses the former first minister of trying to rape her, was giving evidence for a third day at the High Court in Edinburgh.
The woman alleges that the attack happened following a dinner at Bute House on June 13, 2014.
However, during cross-examination defence counsel Shelagh McCall argued that she never attended that function – instead saying she had been a "willing participant" of a different sexual encounter in August 2013.
Mrs McCall asked: "Did you kiss him and he kiss you back?"
Woman H said: "I spent a large amount of time that night trying to avoid him kissing me. It was kind of like dodging his advances."
Mrs McCall asked: "Did you undo the trousers you were wearing on that occasion?"
Woman H said: "I spent that part of the evening trying to keep my clothes on."
Mrs McCall asked: "Is the truth of the matter not that Mr Salmond's underpants were not down, just his trousers?"
Woman H said: "Absolutely not, because I have these horrific images of him being fully aroused and him lying over me."
She added: "I am not a liar. I'm here to protect other people from what happened to me."
The woman has previously described feeling like she was being "hunted" during a "chase" in Bute House, which she says culminated in Salmond taking her clothes off and lying naked on top of her while drunk after repeatedly telling him to stop.
A recording of a police interview with a Scottish actor was played to the court – where he confirmed personal details of Woman H as well as having a roast lamb dinner with her and Salmond on the night of the alleged attempted rape at Bute House.
The actor told officers that he recalled leaving them together as he got a taxi following an "optimistic" and "jovial" discussion about the forthcoming independence referendum in September 2014. He denied it had been a boozy event and said he,  Salmond, Woman H, him and another woman had shared one bottle of red wine between them.
Meanwhile, a former staff member from the Yes Scotland campaign confirmed attending a dinner at Bute House with Woman H and Salmond as well as a Scottish sportsman and his wife in August 2013.

Mrs McCall asked him: "Did you see him (Salmond) and her in close quarters, in each other's personal space, during the campaign?"
The man replied: "Yes."
Mrs McCall asked: "How did she seem in his personal space?"
The man replied: "Friendly and comfortable, it was all quite relaxed."
Mrs McCall asked: "Thinking about that period right up to the independence vote, did you notice any change in how she was in Mr Salmond's personal space?"
The man replied: "No."
The trial continues.