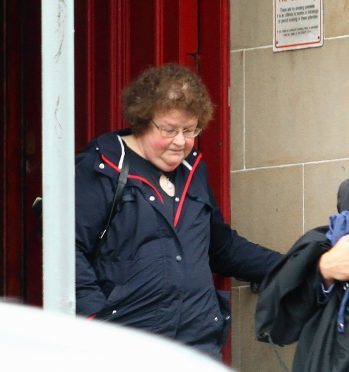 A woman who caused the death of another motorist after being distracted by her dog has been spared a jail sentence.
Gwyneth Neal's King Charles spaniel jumped on to her dashboard as she drove along the A85 Oban-Perth road near Dunbeg.
As she tried to move the animal, she swerved on to the opposite carriageway into the path of Catherine St Jean.
The 39-year-old charity worker was airlifted to hospital in Glasgow but later died.
Neal, 68, appeared for sentence at Oban Sheriff Court yesterday and was fined £750 and had six penalty points added to her licence.
She previously admitted causing Mrs St Jean's death by driving without due care and attention on May 30 last year.
Fiscal Eoin McGinty said Mrs St Jean was driving her Ford Ka from Oban, travelling east, while Neal was driving a Fiat 500 from Dunbeg towards Oban.
She had her King Charles spaniel with her.
Mr McGinty said: "A witness who was travelling in a car in front of the accused heard a loud bang coming from behind.
"He looked in the rear view mirror and described an explosion with debris being flown into the air.
"He went to Mrs St Jean, who was breathing but completely unresponsive."
Mrs St Jean was taken by helicopter to hospital in Glasgow and was kept on life support, but died on June 3. She had suffered a fractured skull and collapsed lungs.
Neal's agent, solicitor Edward Thornton, said: "The word tragedy does not adequately describe the effects of this sad and unfortunate collection of events.
"I am instructed by Mrs Neal to express her deep sorrow and regret to the family of Mrs St Jean that this accident happened.
"She has driven for more than 30 years completely without any stain on her driving record. Her character is impeccable.
"The vehicle she was driving belonged to her 46-year-old son who suffers from cerebral palsy and lives with Mrs Neal, who supports him.
"The dog suddenly and for no apparent reason jumped up on to the dashboard.
"Its claws got stuck in the glove box and it was extremely distressed. She reacted instantaneously by trying to free the lead.
"By the time she had done that, which was a fraction of a second, unfortunately her car had drifted on to the other side of the road."
Sheriff Ruth Anderson said: "I am not considering custody. Looking at all the various letters of support, clearly Mrs Neal has given more than most of us ever do back to the community at large."