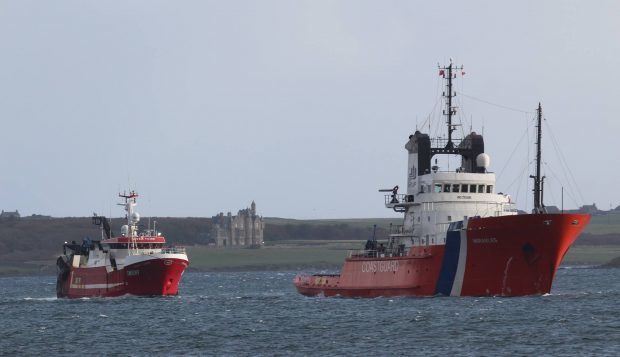 Scotland's only emergency Coastguard tug came to the rescue of a drifting fishing boat when gale force winds prevented a lifeboat from helping it.
The 89ft Russa Taing lost engine power 12 miles west of Noup Head, Westray, on Thursday evening and the Orkney-based emergency towing vessel (ETV) Herakles was called in to assist.
A Coastguard spokesman said: "The vessel broke down and requested assistance because they were drifting and the weather was bad.
"Another fishing vessel, the Keila, attempted to tow it but they were unsuccessful because the towing cable kept breaking.
"The Stromness lifeboat, which had been standing by, was also unsuccessful and the Coastguard ETV then took over the tow and they arrived in Kirkwall Friday morning.
"It was a gale-force wind at times with quite a rough sea. The weather made the journey very slow and uncomfortable."
An operation to load the stricken Transocean Winner oil rig, in Broad Bay on Lewis, onto the Hawk heavy lifting vessel began yesterday morning, but had to be temporarily suspended due to increasingly rough sea conditions.
A Maritime and Coastguard Agency spokeswoman said: "The Hawk and Transocean Winner remain at immediate readiness overnight and should the weather conditions improve, then the operation will resume as planned.
"The latest weather forecasts are predicting a further deterioration in wind and sea conditions from Sunday onwards so, unless the operation is resumed by noon on Saturday, it is likely that the Hawk will be stood down and the Transocean Winner put back onto her eight anchors."
She added that further discussions would be held by the Secretary of State's representative for maritime salvage and intervention Hugh Shaw with Transocean and Smit Salvage to look at other possible options for resolving the situation.
The 17,600 tonne rig crashed onto rocks at Dalmore after breaking free from its tow during a storm on August 8.
It was salvaged and towed to sheltered waters in Broad Bay, and is now destined for a scrap yard in Turkey.
Meanwhile, CalMac's MV Hebrides ferry that was damaged when it crashed, hitting rocks and damaging pontoons, on North Uist on Sunday, completed her journey from Lochmaddy harbour to the Clyde yesterday.
A spokeswoman for the company said she would enter dry dock today , where work on repairs would begin.