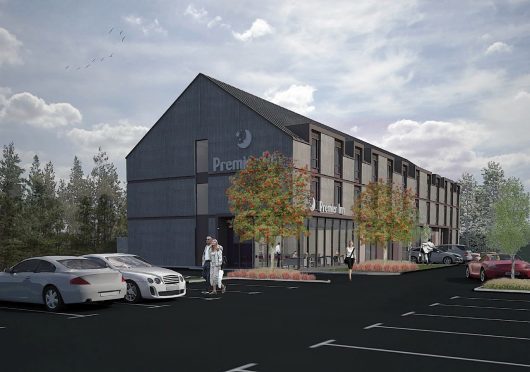 Preparations for a new chain hotel in Aviemore could take a step forward this week as its operator bids for a licence.
The proposed 60-bed Premier Inn on Grampian Road does not even have planning permission at the moment.
But the company is preparing for the development by seeking a premises licence.
The development would be built on a prominent gap site at the southern end of the village.
The site used to house the Cairngorm Service Station – but the petrol station closed in 2005.]
The shell of the buildings were removed in recent years and the site now sits cleared.
Highland councillors will consider the application today for a licence – which allow alcohol sales between 10am and midnight each day.
Licensing standards officer (LSO) Marjory Bain said this should be acceptable as the premises are primarily "food led".
She said: "The operating plan has been overviewed by the LSO who is of the opinion that it is in line with the licensing objectives.
"An outside drinking area is shown in the plans. The site is a detached one with reasonable distance from other commercial and residential units."
The hotel chain still needs to obtain planning permission – with the final decision resting with the Cairngorms National Park.
The operator has vowed to bring £5million worth of investment and create 30 jobs in the village.
A previous plan for a 53-bed budget hotel was approved by the national park in 2011 but the development never materialised.
The new plans involve building a 60 bedroom hotel with breakfast and restaurant facilities, as well as a car park with 53 spaces.
Artists' impressions submitted with the proposal show a 2.5-storey building facing on to Grampian Road, which is considered a key gateway into Aviemore.
The building would be higher at the back as the site slopes steeply away towards the River Spey.
The plans have met the approval of Aviemore Community Council, with chairman John Grierson saying it is better designed than the previous application.