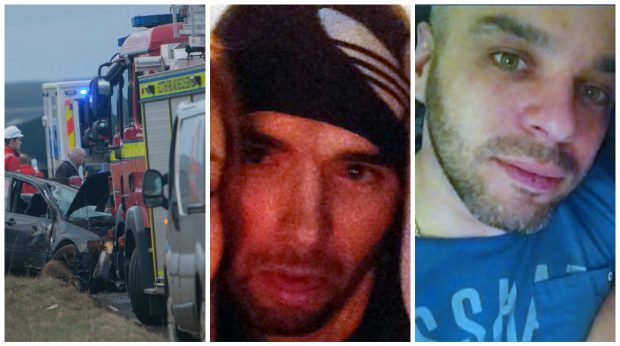 A speeding motorist who killed his friend after he lost control of a high-performance car was jailed for six years and four months today.
Marc McDonald had been driving at 113 mph prior to the fatal collision on a country road that claimed the life of his passenger Gavin Farquhar.
A judge told McDonald, 31, at the High Court in Edinburgh: "You pled guilty to an offence of a grossly reckless nature."
Lord Turnbull said: "You were driving a powerful car which had been modified so as to enhance its performance even further."
The judge said McDonald had driven the Mitsibushi Evo along a fairly narrow country road at a time when it was perfectly foreseeable that other motorists would be present.
Lord Turnbull said the conduct was indicative of arrogance and "a complete disdain" for the safety of others.
"Anyone who was observing this driving would have been bound to ask what you thought gave you the right to conduct yourself with such disregard for the lives and safety of others," said the judge.
Lord Turnbull pointed to McDonald's record of offences for careless driving, speeding and dangerous driving and that he had 11 penalty points on his licence at the time of the latest crime.
The judge said it disclosed that he considered that speed limits and other rules of safe driving "were for others" and did not apply to him.
He said the description of the events he was given made it plain "but for pure chance you could have taken a number of lives that day".
Lord Turnbull said: "I recognise only too well no sentence I can impose is capable of undoing the harm caused by the way you chose to drive that day."
The judge added that any sentence he passed was not a measure of the loss suffered by the dead man's family or a measure of the value of his life.
Lord Turnbull told McDonald that he would have jailed him for eight years for the offence, but for his guilty plea.
The judge also banned him from driving for 10 years and ordered he re-sit a test before taking to the road again.
McDonald, formerly of Plover Place, Reiss by Wick, Caithness, earlier admitted causing the death of Mr Farquhar, 30, by driving dangerously on the A99 John O'Groats to Latheron road on February 12 in 2015.
He overtook other motorists and drove a grossly excessive speeds over the 60 mph limit before losing control of the car which went into a ditch, hit a drain cover, signpost, drystane dyke and a boulder and crossed the carriageway while rolling onto its roof before hitting another dyke.
Mr Farquhar, also of Plover Place, Reiss, was thrown through a car window and suffered a serious head injury and was later declared dead in hospital.
Advocate depute Jim Keegan QC said McDonald, a deep sea welder, was known to have a keen interest in cars.
McDonald and his friend Mr Farquhar had earlier attended the funeral of McDonald's grandmother in Wick on the day of the fatality.
McDonald had initially driven north at excessive speed and overtook a number of vehicles. One witness commented that the car was "going like hell, very, very fast".
He turned at a terminal and headed back south and its speed was calculated on a short stretch of road as 113 mph.
Mr Keegan said: "The vehicle drove into a left-hand bend at speed and the accused was unable to maintain control of the car as it negotiated the bend."
"The car began to yaw anticlockwise and travelled broadside towards an oncoming motor vehicle. The driver of that vehicle later told the police that she realised the driver of the Mitsubishi was struggling to control his vehicle as it passed her and she noted that the rear of the car was on the wrong side of the road," said the prosecutor.
The Mitsubishi went on to a grass verge and struck several objects before it hit a large boulder.
"The impact of the car against the boulder caused it to veer across the road and roll and rotate into the path of another vehicle before mounting the verge at the side of the northbound lane," said Mr Keegan.
It then struck a dyke and Mr Farquhar was thrown through the rear window. Witnesses went to his aid but it was clear he was seriously injured.
McDonald was able to walk away from the wreckage but was subsequently found to have fractures to vertebrae. Mr Keegan said: "The accused should have no long term problems as a result of his injuries."
Defence solicitor advocate Maurice Smyth said McDonald had "virtually closed down his life since this tragic incident".
"He became reclusive and for two years now he has as he described himself 'shut down' doing nothing," he said.
"There has been remorse, there has been guilt and the guilt is continuing. He has been devastated," said Mr Smyth.