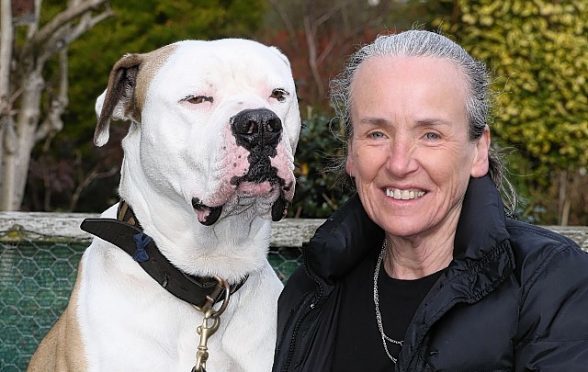 A dog walker has urged a farmer to remove signs aimed at deterring dog walkers in a public row about access.
Nairnshire farmer Craig Philip raised eyebrows after erecting signs advising people it is "not a dog-walking, horse riding or 4×4 off-road facility venue," and that there are "tens of thousands of acres of beach at Nairn to use instead."
As the Press and Journal reported on Monday, Mr Philip 43, who farms at Kinnudie near Auldearn, had complained that "people seem to think they can walk into any old field, let their dogs do their business and not pick it up."
Linda Haines, a 62-year-old part-time cleaner at Nairn Health Centre, regularly walks her son William's American bulldog Bronco.
She said: "I'm absolutely outraged but I won't go in the field again. I don't want to look like I'm antagonising a situation.
"I knew the field was ploughed and I had no intention of walking across it."
Asked why she chose to ignore the signs, she said she felt safer.
"Because of Bronco's strength and size, I tend to go for long rambling walks in the country," she said. "I go on specific routes but on one or two occasions I've been out at night with him, with a head-torch.
"Because some drivers tend to skim you on the road, I went through this field. It was tied at one gate but the other at the far end was open, so I took it upon myself to go through the field against the fence on the grass bank because the field was ploughed."
A spokeswoman for the council confirmed that its access officer had received a complaint and was investigating the matter.
Mr Philip, whose family gifted a community pathway in the area in 2004, stresses that he would "just like people to behave responsibly".