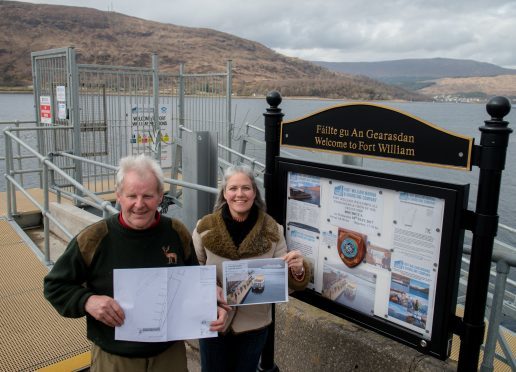 An ambitious plan has been devised to create a short-stay haven for yachts and small craft at Fort William.
The town's Marina and Shoreline Company Ltd has applied for a marine licence to put six new pontoons in place in Loch Linnhe.
The proposal, costing around £850,000, would also see the construction of concrete breakwaters in the loch and provide space for a seaplane's passengers to disembark.
The company's application went out for public consultation this week. The proposal is an extension to the existing pontoons currently in place which are accessed from the West End car park.
Sarah Kennedy, the company's secretary and treasurer, said: "The plan is to have 14 berths attached to water and other services and five unserviced ones.
"It will be a mini marina once the pontoons are in place and will be for the use of short-stay visitors on yachts or small craft. A lot of people want to stay in their vessels overnight, so this will be ideal.
"The marinas at Mallaig and Lochaline are full in the summer, so this is an exciting opportunity for Fort William. People can just walk into town from the pontoons, which will benefit local shops, restaurants and other tourist attractions."
Mrs Kennedy explained that the two pontoons in place at present have to be moved during the winter.
She added: "More than £500,000 of the money required will be spent on underwater work, so that all the pontoons will be in place permanently.
"The concrete breakwaters will make the whole area more square-looking and, if everything gets up and running, we hope to employ a pontoon manager.
"It will be a challenge to get the necessary funding for the project, but I've a few ideas up my sleeve."
She said: "The MV Hebridean Princess has just visited Fort William and a further six cruise ships from the Fred Olsen line are due this year.
"It's lovely having visits from these ships, but they're a bit of a one-day wonder. This extension would be a real boost for tourism throughout the whole summer.
"We also hope to have visits from a seaplane as it can take off from the Clyde and land on Loch Linnhe in an hour."