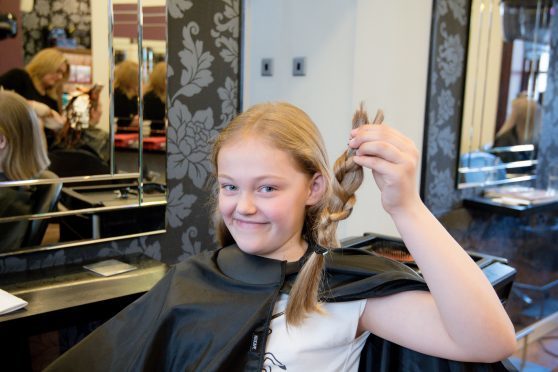 A visit to the hairdresser on Saturday proved anything but routine for a Fort Augustus youngster.
Lucy Burnett, who is just eight, decided to have her hair cut for the first time in order to give her locks away to help children with cancer.
The Kilchuimen Primary pupil was determined to donate her tresses after hearing about the Little Princess Trust which provides wigs to children who have lost their own hair while receiving cancer treatment.
The cost of making a wig is £350, but Lucy's fundraising appeal has been such a success that it has already smashed the target, standing at almost £490.
Her mum, Jennifer, said: "This was her first haircut as she has only ever had the ends trimmed before. It was completely her own idea and I was really surprised because, when Lucy was little, her hair took a long time to grow.
"She used to ask 'why is everyone's hair longer than mine?' and was really pleased when it started to get long.
"But she said she wants to help children who have lost their hair because of cancer and asked me to find out more about the Little Princess Trust."
Mrs Burnett said that hair has to be seven inches or longer in order to be made into a wig or hair piece for a child.
She added: "Lucy told me she didn't mind getting so much cut off as her hair would grow back, but a child who has cancer might have to wait a long time before theirs grows again."
The youngster and her mum travelled to Fort William to have her hair cut at The Strand Salon in the High Street and she was delighted, not only with her new look but by having so much hair to donate.
Her mum said: "Lucy has always been a very thoughtful little girl and I am very proud of her.
Anyone who would like to donate to Lucy's appeal can visit www.justgiving.com/fundraising/Lucy-Burnett08