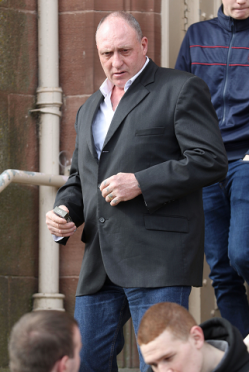 A violent criminal who was deported to Scotland from Australia was involved in an armed stand-off with police in  his Highland home.
And in a scene reminiscent of "Braveheart", staunch nationalist Scott Morrison armed himself with a sword and a targe (Scottish shield) and shouted: "Go back to England. I'm ready for war."
Morrison, now aged 51,  who has served time for attempted murder and kneecapping a rival gang member, was drunk when officers were called to his home at Victoria Drive, Brora on June 3 last year.
Several years ago, Morrison claimed he moved north from Paisley because it was "too rough".
The Renfrewshire town was where he was brought up before his family moved to Perth, Australia, when he was 12.
He served eight years in a jail Down Under for attempting to stab a man to death. He also ran up a record of attacks of police officers.
Today at Inverness Sheriff Court, Morrison admitted behaving in a threatening or abusive manner at his home, uttering racist comments and brandishing a sword at police.
The case was raised as an indictment in a higher court because of his record.
Fiscal depute Michelle Molley told Sheriff Margaret Neilson: "He was evidently intoxicated, and shouted and swore at officers."
Ms Molley said Morrison then came out into his garden holding up a targe and brandished a matching sword.
"For their own safety, constables presented their CS gas spray which seemed to indicate to Morrison that battle was ready to commence. He retreated into his house and a stand-off ensued."
Ms Molley said he was persuaded by police to exit unarmed .
"Five minutes later when he exited, he requested he tend to his chickens and hens before he was handcuffed. His request was permitted."
Morrison had his sentence deferred for a background report until May 11 and he had his bail continued. His sword was confiscated by the court.
Days after his deportation, the father-of-seven sparked a major police alert on Arran by claiming he had a gun and threatening suicide.
He was also involved in another stand-off in Inverness when he brandished an air pistol and threatened to burn down the hostel he was in.