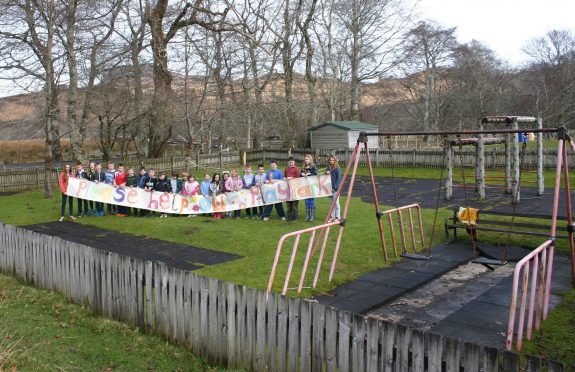 Plans for a new play park in a small West Highland community will now be able to take off – thanks to a £35,000 funding boost.
Glenelg – the only place on earth to be twinned with Mars – doesn't have a space-age play area as the present site is past its best and is prone to flooding.
But thanks to an award of £34,997.50 from the Highland Leader programme, the Glenelg and Arnisdale Development Trust will now be able to begin work on the new play area for local youngsters – on a site next door to the old one.
Tina Martin from the trust said: "The existing play area in Glenelg is very popular but is no longer fit for purpose as it floods and needs upgrading.
The grant from Leader through the Wester Ross, Strathpeffer and Lochalsh Local Area Partnership, will allow us to create a new play park adjacent to the current site on land owned by the trust.
"A number of new innovative pieces of play equipment will be installed for children of all ages to enjoy, along with safety surfacing.
"As the park is situated near to Glenelg Brochs, we are delighted as plans for the site will include seating in the form of replica brochs as well as new interpretation boards which will provide information about these ancient Pictish towers.
"We hope the park will become a visitor attraction and gathering place for local people as well as visitors to the area."
The Wester Ross, Strathpeffer and Lochalsh Local Area Partnership has a budget of £506,688 to award to projects in the area by March 2019.
Amy MacDonald, chairwoman, said: "Leader aims to promote economic and community development within rural areas. The Local Area Partnership has developed an action plan outlining development priorities for the community.
"We are delighted to support this project which will contribute towards the delivery of the play park plan.
"The partnership can fund a range of different projects and we want to encourage local groups to get in touch with ideas. We can consider projects which have costs of £20,000 or above with applicants being able to apply up to 50 per cent of the costs."
Glenelg has been twinned with Mars since Nasa launched a rocket to the red planet, 39.9 million miles away, back in 2011.
It landed on August 6, 2012, and its rover vehicle named 'Curiosity' travelled to a geological feature scientists called 'Glenelg' arriving at the site on October 20 the same year.