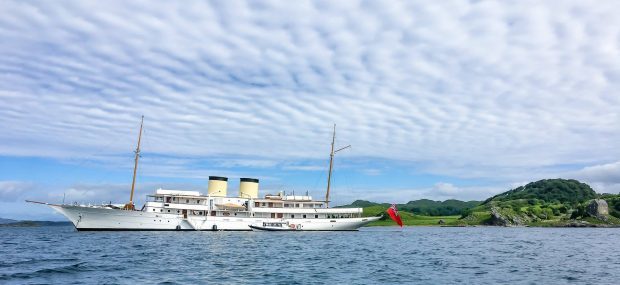 A super-yacht with a rare pedigree cruised into the Western Isles yesterday, sparking a frenzy of interest about who might be aboard.
The 262ft-long luxury vessel Talitha is owned by the billionaire Getty dynasty, but can be hired for a little matter of £245,000 a week.
Sir Winston Churchill was said to be a great admirer of the vessel which was launched between the two world wars from the Krupp yard in Kiel, Germany.
She began life as the MV Reveler before passing into the hands of Charles McCann of the Woolworths retail firm and renamed Chalena.
The vessel subsequently served as a World War II gunboat as USS Beaumont, with armaments mounted fore and aft, providing a rare Krupp contribution to the Allied effort.
After the war, she resumed private service as Elpital, until music and film producer Robert Stigwood – the former manager of the Bee Gees – bought her and renamed her Jezebel.
John Paul Getty bought her in 1988 and had her restored, adding a second funnel and renamed the boat after his wife, Talitha.
Passengers were spotted yesterday being ferried from Talitha, anchored near Arnish, to Stornoway.
Still considered one of the most old-fashioned, glamorous vessels at sea, she sailed out of Pearl Harbour 75 years ago with six anti-aircraft guns and 110 US Navy personnel aboard.
Today, she is brimming with finely polished wood, silver and quilted upholstery with 18 staff serving guests.
She is regarded as one of the most successful charter yachts in the world with a packed, year-round schedule of bookings.
Since a relaunch in 1993, she has completed more than 130 charters in the Caribbean, Mediterranean and Baltic seas, clocking up about 250,000 sea miles.