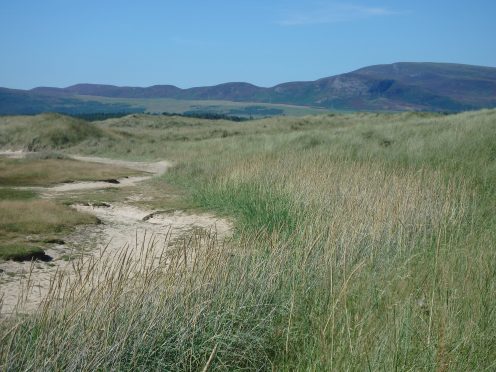 A north councillor has claimed objectors are exaggerating the impact on bird life at the site of of a proposed new golf course in Sutherland.
East Sutherland and Edderton councillor Jim McGillivray says US developers, Todd Warnock and Mike Keiser, have worked hard to modify their plans for the controversial 18-hole course at Coul Links, by Embo, by moving it away from a primary dune slack habitat for bird life.
However, conservationists have already raised more than 10,000 signatures in a petition against the project.
And concerns have been voiced by a wide number of organisations, including RSPB Scotland and the Scottish Wildlife Trust.
The location includes legally-protected dunes, rare habitats and wildlife and has been described by protesters as "one of Scotland's most eco diverse sites."
However, Mr McGillivray said: "Cars and cats kill more birds than golfers.
"Indeed in the immediate area, the burgeoning seal population at the Loch Fleet Nature Reserve, having virtually annihilated the annual run of sea trout and Atlantic salmon, have now turned their attention from fin to feather."
Mr McGillivray believes RSPB Scotland should be focusing more on addressing the seal problem.
The proposed golf course would encroach about 1.8% on the site of Special Scientific Interest (SSSI), and the area is a special protection area and protected wetland site.
The developers have stated that 34.6 acres of the course would be SSSI, with 21.5 acres falling outside its boundary, and plan to remediate 14 acres of a felled tree plantation within the SSSI.
Local councillors and residents have been angered by politicians claiming the golf course would be an environmental catastrophe.
Many believe the prospect of jobs for young people in an area struggling against depopulation is a once-in-a-lifetime opportunity.
RSPB, which has submitted its objection to Highland Council, said Coul Links provided habitat for ducks, geese and also plant life, including a rare colony of coastal juniper trees.
It is also home to the Fonseca's seed fly which is only found at a few sites in east Sutherland and nowhere else in the world.
Alison Searl, Conservation Officer at RSPB Scotland, said: "We are extremely concerned about the proposals for this golf course, as we would be about any threat to this particular site.
"The global importance of Coul Links for wildlife is reflected by its protection through national and international legislation.
"The unique dune habitats which cannot be replaced or translocated would be destroyed."