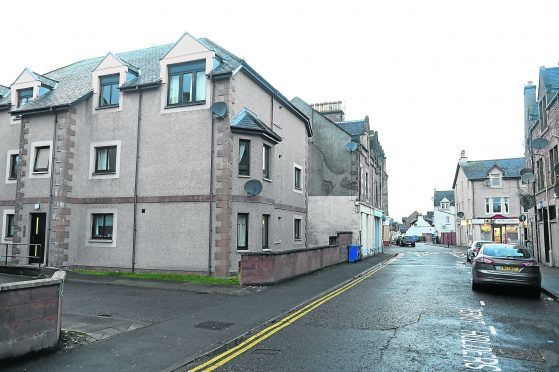 An Inverness home has been badly damaged after lit fireworks were forced through the letterbox.
Police said multiple rooms were damaged and that personal items were destroyed in the first floor flat in King Street.
The residents of the property were home at the time – but escaped without injury.
Barry Keagh, 38, a downstairs neighbour within the block described how he woke up to the sound of wailing alarms and went outside to the main hall.
He said: "I had a look around and saw the used firework on the stairs, and smoke coming out of the house.
"I shouted up to ask if everyone was okay and they said they were fine – apart from the cat getting a fright. I couldn't smell anything but I did see the used firework on the stairs but that was it."
Another neighbour also said that there was damage to a carpet and a bed as a result of the fire.
Both police and the fire service were called to the flat in the early hours of Monday morning.
Inspector Murdo Macleod is urging anyone with information to come forward to prevent another such incident happening again.
He said: "This is an utterly reckless act which has caused significant damage to the inside of this property, though there was the potential for other serious consequences.
"Misuse of fireworks is very dangerous and it is fortunate that nobody was injured during this incident – the outcome could have been far worse."
Inverness West councillor Graham Ross said: "I am just shocked. It's incredible and frightening to hear this has happened. I am delighted to hear no one was hurt but this is totally disgusting, it really is.
"I really hope they catch them and make an example out of them. I would appeal to anyone who saw anything to come forward."
Inverness Central councillor Bet McAllister, who knows the area well, said: "It's horrendous to hear of something like this happening. It's very unusual, this is the first time I've heard of anyone putting fireworks through anyone's letterbox.
"If they don't have a lock on that back door I would be asking the council to make sure there is one put in.  They should also have CCTV in flats like that as it would be a deterrent."
Anyone with information should contact police on 101 or Crimestoppers on 0800 555 111.