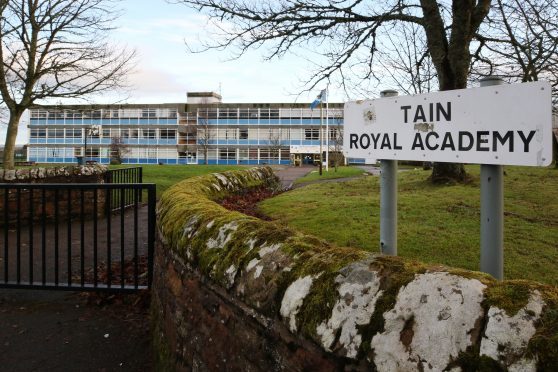 Parents have voiced their fears that a £45 million Highland super-school will be removed from the council's capital programme amid site selection issues and looming budget cuts.
Tain Royal Academy's parent council chairwoman, Wendy Hennem, also fears there won't be any money available to invest in the town's deteriorating school stock over the next five years.
And she revealed that, in a meeting last week with Tain Royal Academy's headmaster, she saw three buckets on the floor to catch water leaking through the office roof.
Ms Hennem also sent a list of 25 "worrying issues" – including damp and fungal spores in classrooms, crumbling toilets, poor building insulation and lack of access for disabled staff and pupils – to the budget leadership to highlight the problem.
Last night Ms Hennem said: "Our schools should not be left to be in such a dire condition.
"As a parent council we are very fearful that there will be no investment in a new 3-18 campus in Tain, and also there is a real fear that there will no investment at all in Tain school estates.
"This would be a devastating blow to our community, our pupils and our teachers and would have serious implications for the education of our children."
The proposed new 3-18 campus for Tain came out of the 2011 Sustainable School Estate Review. The new campus would replace the sub-standard primary and secondary school buildings in the town.
Ms Hennem and local councillor Fiona Robertson both said yesterday that the condition of Craighill Primary School is among the worst in the region.
Plans for the campus were shovel-ready earlier last year, but Highland Council went back to the drawing board amid objections to the proposed site at the existing secondary school, with many residents saying the building would be too cramped.
And on February 15, the local authority looks set to slash its capital budget – from £100 million to £55 million – for such projects and is also committed to a new campus at Alness, casting further doubt over the funding needed for Tain.
Ms Hennem said that, if the reviewed budget leaves out the 3-18 campus, she hopes the council will consider approaching the Scottish Government's Scottish Future Trust fund which provides for new build schools, when they are ready to progress with the project.
Ms Robertson said the hope is that the community can agree on the site by the end of the year.
A council spokeswoman said: "The council is currently reviewing its capital programme, the outcome of which should confirm a capital investment plan for the next 10 years. Investment in Tain – and other Highland schools – is being considered as part of that process."