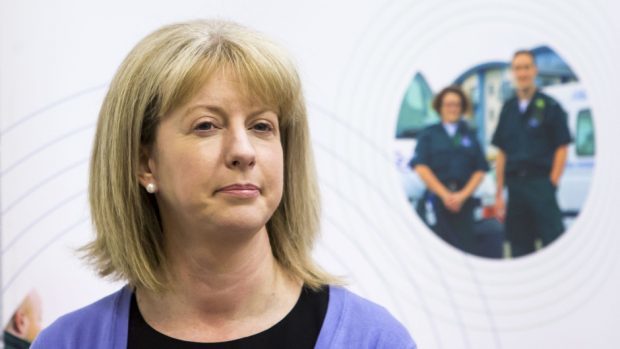 Caithness campaigners have urged Health Secretary Shona Robison to intervene in an ongoing row over NHS services in the far north.
Members of the Caithness Health Action Team (Chat) made the request during face-to-face talks with the SNP minister and local MSPs at Holyrood yesterday.
They highlighted a fall in births at Caithness General Hospital since it controversially switched from consultant-led to midwife-run, as well as paediatric concerns and the ongoing review into the future of Wick's Town and County Hospital and Thurso's Dunbar Hospital.
And the group told Ms Robison that it had lost faith in NHS Highland.
Speaking afterwards, Chat chairman Bill Fernie said: "We had a good meeting. We put over all our points and I think the minister was probably surprised by some of the information we gave her, and there was quite a lot of it.
"She did take seriously the points we put up.
"Basically we want some substantial look at what is happening with maternity, we want her to really get involved with the Dunbar issue.
"NHS Highland have been reviewing health services in Caithness for five years and then they come in and announce another consultation.
"We are hoping that she will come up with some suggestions that will improve the way NHS Highland works. Because NHS Highland has lost the trust of people."
After the talks, members of Chat held a separate meeting with Highland MSP Edward Mountain, who said he was "really disappointed" the summit had been arranged for a time when he was chairing a committee meeting.
The Conservative added: "I think NHS Highland lost the confidence of the people of Caithness a long time ago."
NHS Highland chairman David Alston, who attended the meeting with the minister, said: "This was a meeting between Caithness Health Action Team and the cabinet secretary.
"I was asked to attend as chair of NHS Highland and it was useful to be able listen to what representatives from Chat had to say about health and social care services in the north of Scotland and to hear the cabinet secretary's response."
Last night, Ms Robison said: "I have been clear that I want the provision of high quality services in Caithness to continue and I was happy to meet the Caithness Health Action Group to discuss their concerns.
"NHS Highland has also been engaging with the public and stakeholders as part of the wider services review and I will be seeking assurances from them that this is being undertaken.
"In the meantime, I would urge both Chat and NHS Highland to work together on future service change proposals for Caithness to get the best outcome for local people."