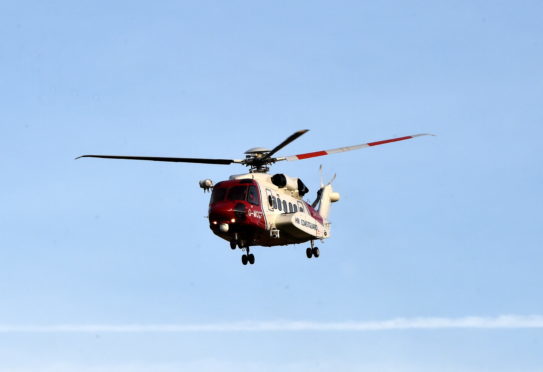 Three power workers have been airlifted to safety after becoming trapped in sub-zero temperatures 2,000 feet above Loch Ness.
The trio were stranded in their vehicle for five hours after becoming submerged in deep snow between the substation they were working on and the accommodation block.
Two other workers were able to struggle out of the area to raise the alarm around 12.3opm after the group of five apparently ran out of diesel for the generators.
Cairngorm and RAF Mountain Rescue teams were dispatched to the 66 turbine wind farm in Glen Doe, along with the Coastguard Search and Rescue helicopter.
The men were winched out at 5.30pm and transferred to Raigmore Hospital by ambulance.
A spokesman for the project said: "We can confirm that, due to extremely heavy snowfall, access roads to and from the Stronelairg connection site are currently closed and all works are suspended.
"Due to continued challenging conditions, three team members are currently located in a stationary vehicle between a satellite building and the main accommodation block.  These individuals are safe, their location is known and lines of communication are open.
"In line with our emergency plan, we are taking all possible steps to ensure the safety and welfare of these individuals including, as a precaution, enlisting the support of Cairngorm Mountain Rescue.
"Our focus is on ensuring the continued welfare of all of our operational team whilst we continue to work to clear access routes."
The men are all contractors with Siemens-BAM and are working on behalf of SSE's transmissions arm, the Scottish and Southern Electricity Networks.
The wind farm is one of the highest operational construction sites in the UK and faces "challenging" weather conditions on a regular basis.
Cairngorm MRT initially said that at first no Coastguard search and rescue helicopter could be sent because of the weather conditions, when the call came in around 12.30pm.
However, a spokeswoman for the Maritime and Coastguard Agency later added that at just before 3.30pm they were contacted by Police Scotland requesting assistance in recovering the three stranded workers.
This incident comes as winter weather caused havoc across the north, leading to a number schools and ski resorts being closed.
Cairngorms mountain and Glencoe Mountain resort reported gales of between 60 and 80mph.
Sever gales also led to a lucky escape for a Co-operative driver after his lorry careered off the road down an embankment on the Isle of Skye yesterday morning. and another car ended up on its roof in Glencoe.
Cairngorm Mountain Rescue Team also helped two climbers lost in the Cairngorms.
A father and his 16 year old son had climbed Lurcher's Crag before they lost their way and needed to be rescued.
The Inverness-based coastguard search and rescue helicopter, fresh from rescuing three snowbound power workers, was on scene 6.05pm.
But it was not needed as both the CMRT managed to get both climbers safely down the mountain and neither of them needed medical assistance.
It is the second time the team were called into action after Monday's warning from Police Scotland to people heading to the mountains to take extra care in wintery conditions.
That call came after Scotland's Mountain Rescue Teams were mobilised more than a dozen in one week.