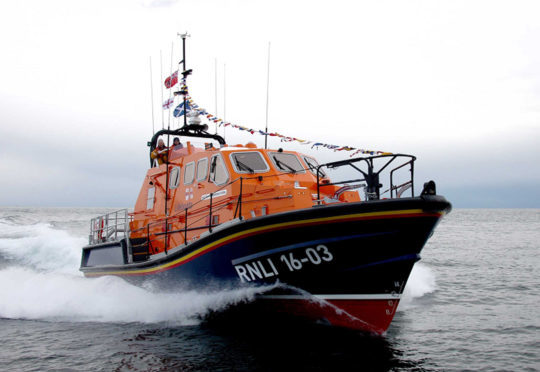 Thieves have stolen one of the most remote collection tins in Britain.
The cash was taken from the tin which was seeking funds for the RNLI Lifeboat on the Orcadian island of Hoy which has around 420 people.
It was also the second crime in days on the island which had its last recorded offence over a year ago.
Islander Mrs Rachel Thomson said the tin was placed by the local ladies lifeboat guild used for donations from books borrowed to raise funds for Longhope Lifeboat.
The station was the centre of one of Britain's worst lifeboat disasters when in 1969 all eight men were lost when the lifeboat TGB capsized after setting out to help a cargo ship adrift in a fierce storm. Many of the current crew have relatives lost, or links, to the disaster.
"We don't get a lot of crime here so this theft is very disappointing. People are very saddened by it," said Mrs Thomson. "We are a very trusting community so it's been a bit of a shock. The tin raised money for the lifeboat – I don't know how much was in it."
Police in Orkney are appealing for information following the two recent crimes of dishonesty on the island.
The first incident involved an attempt to force entry to a coin operated meter using for operating a shower at public conveniences at Longhope Pier.
This is believed to have happened sometime between midday on April 4 and the same time the next day.
Nothing was stolen but the system was irreparably damaged by the attempt to force entry.
The second incident involved the theft of a charity collection tin from the ferry terminal at Lyness sometime between April 2 and Friday.
Orkney area commander Chief Inspector Matt Webb said: "Crimes such as this are highly unusual in our islands and have naturally caused concern to the local community on Hoy.
"Theft is unacceptable in any form but stealing from a charity is a particularly insensitive act.
"We are keeping an open mind about whether these two particular incidents are linked and enquiries are ongoing in both cases.
"Officers are on Hoy today to further these investigations.
"I would urge anyone with information about these incidents to pass this on – perhaps you have seen someone acting suspiciously in either of these two areas."
Police Scotland said the last recorded crime on Hoy was August 2017 – again for theft. Police said that the crime was "detected" meaning somebody was arrested.