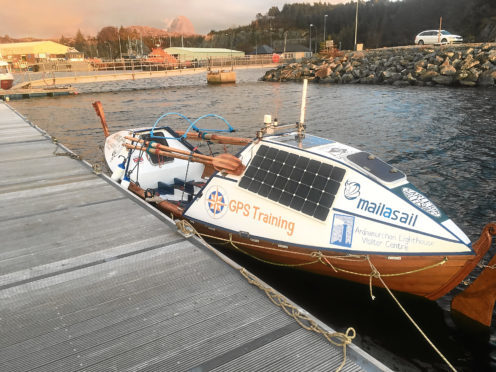 What are your plans this summer? A week in Majorca or perhaps a luxury cruise around the Caribbean?
Maybe you're just staying local, with a short mini- break to somewhere else in Scotland?
Whatever you're doing, it's likely to be a whole lot more relaxing than Duncan Hutchison's next few months, which centre around a gruelling 3,400-mile solo row across the Atlantic beginning next month.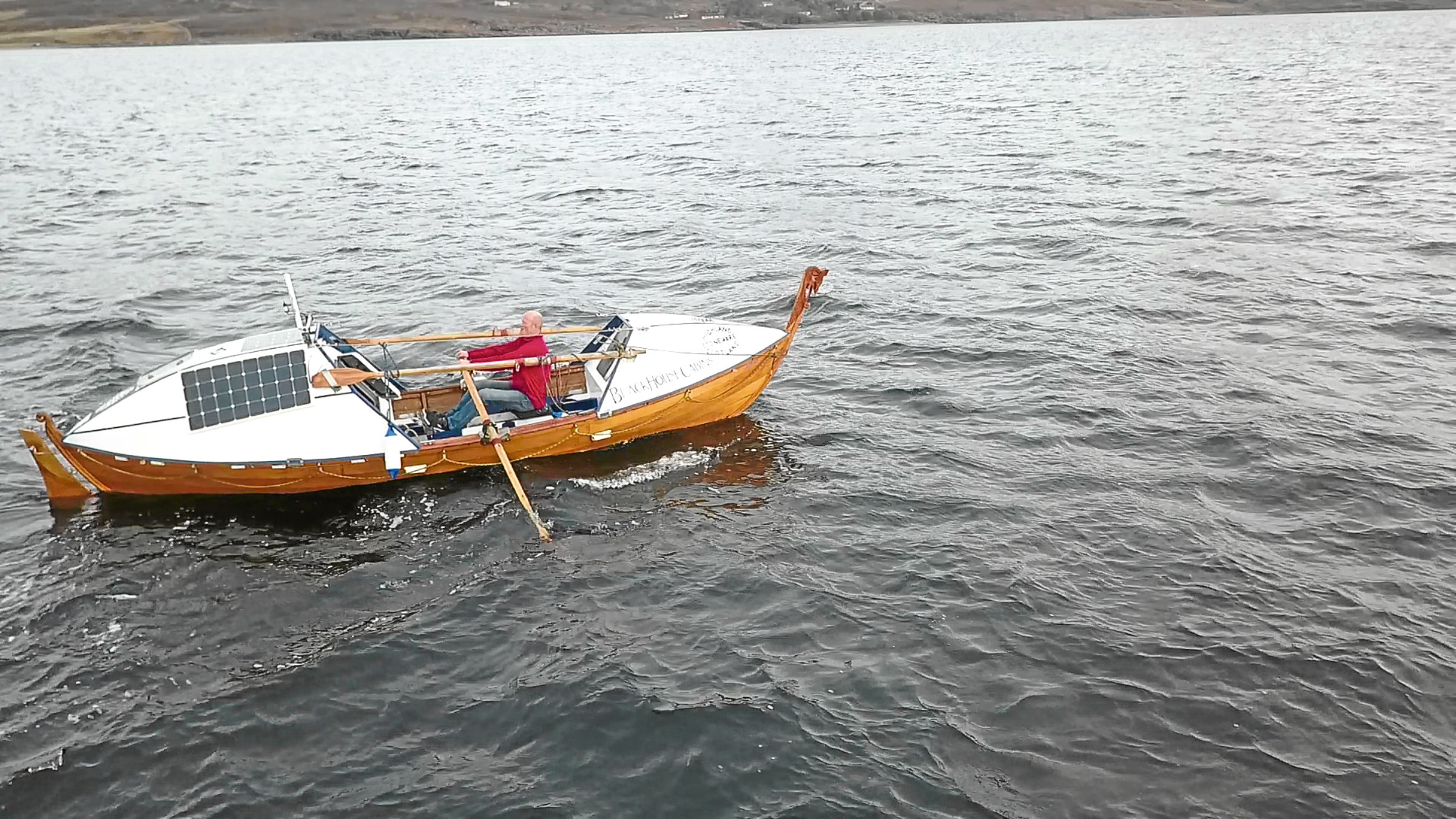 In a boat he built himself, the Lochinver resident is planning to row for 12 hours a day over a period of 100 days, taking him east from Manhattan Yacht Club in New York all the way to his home port back in Lochinver, in north-west Scotland, raising money for WaterAid in the process.
The charity enables some of the world's poorest people to gain access to safe water, sanitation and hygiene education.
But for a man who describes himself as "just a normal guy", what's the reason behind such an extreme summer break?
"I don't really know why I'm doing it," Duncan laughed. "It wasn't a lifelong ambition or anything like that.
"It pretty much started about three and a half years ago when I got involved with the local skiff club.
"I joined to start help build boats, and then I sort of got the idea that I'd like to build one for myself.
"I started out just replicating the hull shape of traditional skiff designer Iain Oughtred, who lives in Skye.
"He gave me the approval to copy his design as well as some pointers on going about it.
"When I started building I didn't have a plan exactly, but things changed as I went along, and I deviated from the original design.
"Traditional skiffs are usually four-person rowboats, but I altered mine so it would be for one person only.
"Then the thought of what I would do with the boat after I built it came up, and so did the idea of the challenge.
"Apparently more people have walked on the moon then have rowed solo across the Atlantic.
"And of those who do, most buy boats worth about £100,000, and here I was building one out of wood in my shed."
Untroubled by the money and years of training that go into most Atlantic crossings, 52-year-old Duncan set about turning his homemade harbour skiff into a steadfast ocean vessel.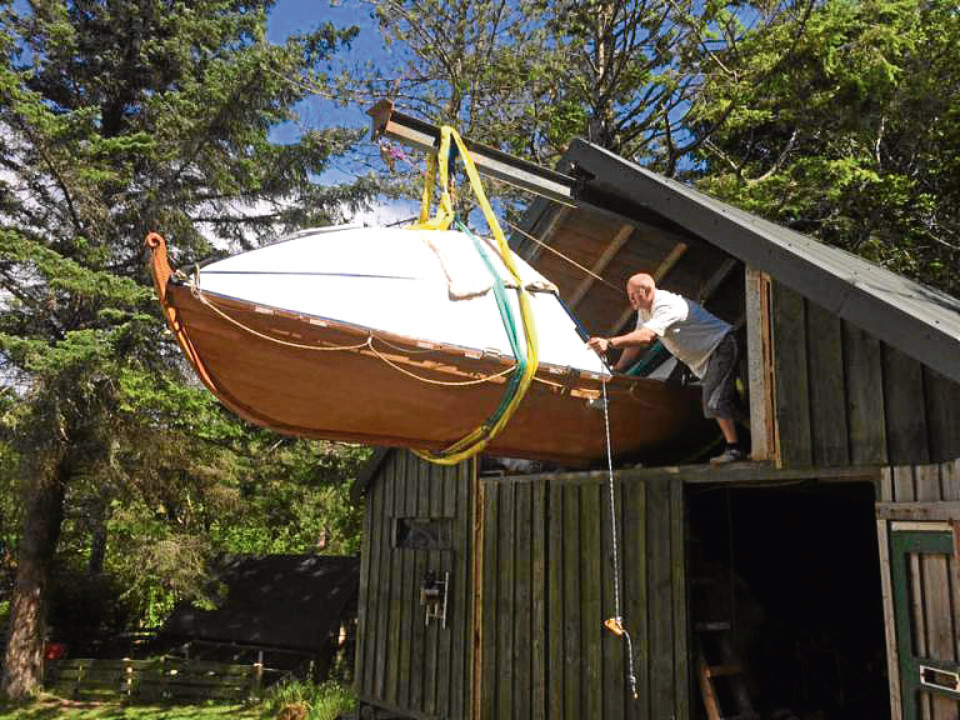 First port of call was adding a deck, with a forward cabin for storage and an aft (or rear) cabin for some sheltered living quarters.
Next on the list was addressing the quite likely possibility of capsizing.
Designed to make it virtually unsinkable, numerous airtight capsules were added to the skiff's structure, creating air pockets able to self-right the vessel in the event of capsize.
Another important landmark of building a boat is naming it.
"I've gone for 'Sleipnir'," said Duncan.
"In Norse mythology, Sleipnir is an eight-legged horse ridden by Odin, legendary for his strength, courage and speed.
"It is believed that Sleipnir was not only the fastest horse, but exceptionally smooth and that he could be ridden over the sea."
But mythology aside, building a boat is no mean feat, and clearly this wasn't Duncan's first time.
Although he currently works offshore as a rope access technician, Duncan's past has been peppered with various stints in the maritime world.
From fishing in a small clinker boat before school, he completed a five-year shipyard apprenticeship in Aberdeen.
And after moving back home at the age of 21, Duncan built himself a small steel creel boat and fished for several years before progressing into the fish processing business.
During this time he signed up as a volunteer for the Royal National Lifeboat Institution (RNLI), serving 20 years as part of the crew.
"I have a great passion for being out on the sea," he said.
"I love when the weather is wild, or as I like to describe it, 'alive'.
"And although I built that steel boat years and years ago, working with wood as a material is totally different.
"It took me a lot of time to figure out exactly how I was going to do each specific part.
"And it has just been me working on it; I only had friends help me when the structure needed to be lifted.
"With working offshore too, the whole building process has taken about three years.
"I built it in my shed too which was interesting.
"My son kept asking me how I was going to get it out of there eventually, and in the end we had to take off the entire back wall.
"That was about a year ago and since then it's just been a case of installing all the electronics and safety gear.
"Those are the only parts that I haven't built myself."
And if you're sailing solo through all the various hazards the North Atlantic Ocean can present over the course of three months – think icebergs, ships, floating debris, hurricanes and unforgiving weather systems – some safety gear is essential.
But this equipment doesn't come cheap, and Duncan explained how he had to delay the mission by a year because costs were mounting up.
As a result, he turned to crowdfunding to help finance the project.
"I could never have done this by myself," Duncan said.
"Some of the equipment costs thousands and thousands of pounds, and I'm expected to have certain things before the US Coastguard will even let me leave the harbour.
"A lifejacket and life raft are essentials, as well as flares and a Para Anchor which should hold the boat into the wind so it doesn't roll upside down.
"A solar powered machine which converts sea water into drinking water is another necessity.
"I also have three different GPS navigators, just in case anything happens to one or two of them and I still need to find my way.
"I'm obviously hoping to land back in Lochinver, but to be honest I'll be chuffed just to hit UK mainland depending on the weather!
"I'll be rowing in shifts of two hours on then two hours off all day and night, but the last part of the route will be the most treacherous as I approach the Hebrides, so I won't be sleeping at all during this time."
But Duncan isn't scared of the toll hundreds of hours of rowing will take, and has been clocking up at least 20km a day on his indoor rowing machine in preparation.
His biggest concern is the loneliness.
"Every expert I've spoken to says that the isolation is a huge part of the challenge," Duncan said.
"I'm going to be 90 to 100 days alone in the middle of the Atlantic.
"Obviously the physical side will be tough but I do think the isolation will be a real test.
"I've been a fisherman before though which can be quite lonely, so I'm hoping I'll be alright.
"After all, it's kind of like a really big fishing trip, just without the fishing."
And a "really big fishing trip" it will be, with only 15 individuals before him having managed to successfully complete a west to east solo Atlantic row in the last half a century.
Until 2012 when the twelfth brave adventurer completed the trip, more people had in fact walked on the surface of the moon than crossed the Atlantic west to east.
More than 29 incomplete attempts have been made, with three rowers lost at sea since 1969.
Of the unfinished tries, most lasted fewer than 15 days out in the fierce storms and strong tides.
And there is a reason why most adventurers go east to west, as rowing conditions are much more favourable.
Duncan is tackling the perilous challenge back to front, and going west to east will see him encounter some of the strongest and most dangerous tides in the world.
But it turns out he won't be alone after all, as in a nod to Tom Hanks' epic survival film Cast Away, an inflatable sidekick will be joining him on the adventure; a volleyball named Wilson.
As autumn approaches, so will the end of Duncan's vast west to east seafaring challenge.
By most standards the father of three will have earned a well-deserved rest, but Duncan himself said it likely won't be long before there is a new challenge on his horizon.
As well as the relatively new-found passion for rowing, Duncan is also hooked on Motor Trials biking (cross-country obstacle courses completed on specialised motorcycles), wood carving (his current construction is a 42-foot totem pole), and as a challenge once climbed five distinctive local mountains in 21 hours.
Oh, and remember when Duncan called himself "just a normal guy"?
Maybe he's not such a "normal guy" after all, but having raised thousands of pounds for charity in the process, maybe that's no bad thing.
l Duncan is hoping to set off from Manhattan Yacht Club in New York on May 16 in his self-built skiff. His wife will be updating his "Duncan Adrift" Facebook page throughout the trip, and to donate to Duncan's chosen charity WaterAid, visit www.justgiving.com/fundraising/duncanhutchison