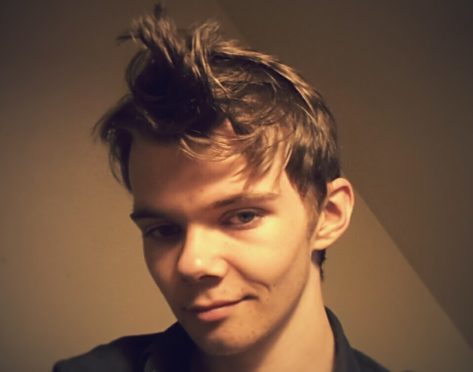 The brother of a teenager who fell ill at an end-of-school beach party has told of the family's fears as medics spent all night trying to rouse him.
Lucas Vye was rushed to hospital just an hour into an unofficial leaving party on a Wester Ross beach when he passed out.
Coastguard, lifeboat and ambulance were scrambled to Coral Beach as Plockton High pupils gathered to celebrate the end of their school career.
Lucas was taken to Broadford Hospital on Skye on Thursday evening. He did not wake up until 10am yesterday.
The 17-year-old was last night in a stable condition after the drama – however, he remained in the Mackinnon Memorial Hospital in Broadford last night.
As the drama unfolded in the early hours of yesterday, Lucas's mother Sherrie frantically asked for help amid frears that her son's drink had been spiked.
In an urgent Facebook appeal, she said: "I am now at hospital in Broadford. My son is unresponsive after someone at the party has spiked him with a drug.
"My son does not take drugs. If anyone knows what drug he has been given please let me know in confidence."
It was still not clear last night whether Lucas's condition was a result of drugs or a reaction to alcohol.
Lucas's older brother Shaun Nicolson, 28, said: "We were gobsmacked. It is so unlike my brother. We got the call and were speaking to one of his friends who told us what happened. We were in a bit of a frantic panic for about an hour, hour and a half, to find someone to take my mum into town."
"I'm just very thankful to my brother's friends for their intervention getting the services involved. If there was nobody with him he could have died of hypothermia, especially with how cold it was last night and being on a beach."
"I'm most definitely thankful for the emergency services. I'm so thankful to everyone involved."
The Scottish Ambulance service attended at 9.45pm with the assistance of the RNLI lifeboat from Kyle and coastguard teams from Kyle, Portree and Dunvegan.
A spokeswoman said one male patient was transferred to the Mackinnon Memorial Hospital in Broadford.
An RNLI spokeswoman said: "On Thursday evening the volunteer lifeboat crew at Kyle of Lochalsh responded to a request from the UK Coastguard to assist the Scottish Ambulance Service in the Plockton area.
"The volunteer crew aboard the Spirit of Fred Olsen launched at 11pm, the lifeboat returned to station, was refuelled and made ready for service by 00.30am."
The party, organised by pupils to mark the end of school, is an annual occurrence at the Coral Beach, and has been the subject of controversy in the past.
Two former pupils caused major disruption with a car on the school's astroturf pitch after attending the party and previously fire crews have been called to deal with reports of an outbreak of uncontrolled fire on an island near to the beach.
A police spokesman said the force had been notified by the ambulance service and were aware of the incident.