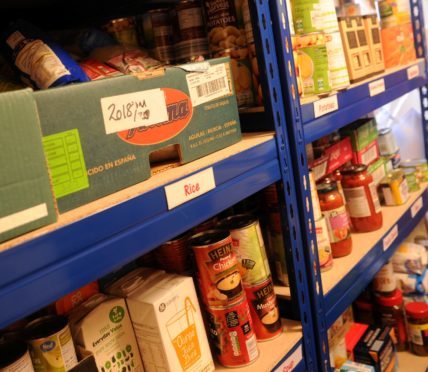 The north of Scotland's most vulnerable residents have been forced to turn to foodbanks in record numbers over the past twelve months.
And alarming new figures show emergency supplies are increasingly being sought by children in dire need.
Volunteers handed-out 12,670 three-day emergency supplies across Highland, Moray, Shetland, Orkney and the Western Isles in the last year.
That is a 27% increase on the period between April 2016 and March 2017, when volunteers gave out 9.952 parcels.
Of those issued in the last year, 3,625 went to children, an increase of almost 900 on the previous year.
The figures are revealed in a report by the Trussell Trust which also looked at the issues that lead families and individuals to seek help.
It found that nationally 70% of respondents found themselves in debt, 57% experienced issues with their mental or physical health and 56% experienced housing issues.
The Trust's report has led to calls for an urgent review of Universal Credit and from some politicians to halt its roll-out in their constituencies.
Highlands and Islands MSP Rhoda Grant said the controversial Universal Credit system was also a major factor.
She added: "These are alarming figures. Problems with the universal credit system were highlighted as a concern."
"The fact is simple. No one in the Scotland, never mind the Highlands and Islands should have to rely on foodbanks in the 21st Century, so we have to look at the cause of these problems.
"Universal Credit is the future for the benefits system, so clearly we need to get it right."
Skye, Lochaber and Badenoch MSP Kate Forbes also hit out at the latest figures, saying: "There are two facts which are irreconcilable in my mind.
"The first is that we live in a comparably prosperous nation – one of the richest countries on earth.
"The second is that families in the Highlands and across Scotland are having to rely on emergency food parcels just to get by.
"In the Highlands, there are phenomenally high numbers of people in fuel poverty too, not helped by the higher energy prices they pay.
"Energy is also a reserved matter and Theresa May could solve the regional disparity whenever she wants."
Western Isles MSP Alasdair Allan said: "These findings are a concern to everyone and reflect the sad and devastating legacy of the UK Government's austerity agenda, which has now continued for the best part of a decade.
"One referral here in the islands is one too many, never mind 616, as the report indicates.
"Foodbanks are run by passionate individuals who seek to provide a safety net and act as a last-resort for those living in poverty.
"The UK Government's austerity agenda, sanctions system and flawed universal credit rollout are making foodbank use far too every-day and common in our communities.
"I fully support the Trussell Trust's call for an urgent review into the Universal Credit Rollout and re-iterate my call for the rollout to be halted immediately, before it reaches the Western Isles later this year."
The figures in full
Across Scotland, 170,625 three-day emergency food supplies were handed out to people in crisis, with 55,038 of these provided for children.
Tony Graham, director of Scotland at the Trussell Trust, insisted benefit levels must keep at pace with the rising cost of essentials.
He said: "In Scotland we expect no one should be left hungry or destitute – illness, disability, family breakdown or the loss of a job could happen to any of us, and we owe it to each other to make sure sufficient financial support is in place when we need it most.
"Foodbanks are providing absolutely vital, compassionate support in communities across our country, but no charity can replace the dignity of having long-term financial security.
"It's completely unacceptable that anyone is forced to turn to a foodbank in Scotland, and we'll continue to campaign for systemic change until everyone has enough money coming in to keep pace with the rising cost of essentials like food and housing."
New analysis of foodbanks that have been in full Universal Credit rollout areas for a year or more shows that these projects experienced an average increase of 52% in the 12 months after the full rollout date in their area.
Analysis of foodbanks either not in full UC areas, or only in full rollout areas for up to three months, showed an average increase of 13%.
Mr Graham added: "Universal Credit is the future of our benefits system. It's vital we get it right and ensure levels of payment protect everyone needing its support, particularly groups of people we know are already more likely to need a foodbank – disabled people, people dealing with an illness, families with children and single parents."