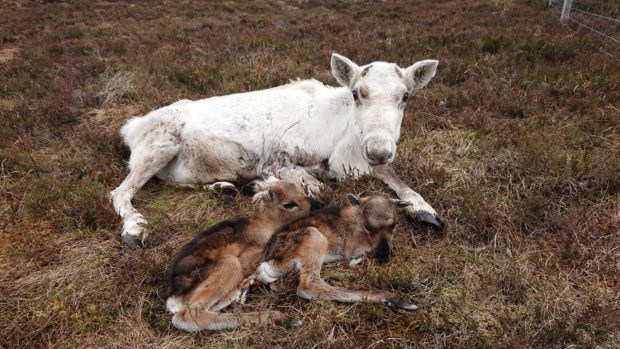 After 66 years of reindeer herding "rare" twins have been born in the Cairngorms for the first time.
The two calves were born on May 8, at the Cairngorms Reindeer Centre near the Glenlivet Estate.
Previous twins born in the Highlands have been still born or died shortly after birth.
A statement posted to the Cairngorm Reindeer Herd Facebook page said: "This is extremely rare with only one other known case of twins being born in the world are in Finland in 2010.
"Their mother Lulu is one of our older females in the herd, at 12 years, and she is taking everything in her stride and not batting an eyelid at the two little bundles following her."
The calves spent their first two weeks in the mountain enclosure where they have been fed bottled milk last thing at night every day.
The statement also said: "Summer time is crucial for keeping an eye on reindeer with biting insects causing illnesses which the twins will be more susceptible to so their first six months are going to be a rocky road.
"We feel they have rallied through their first two weeks so this amazing news can go public."