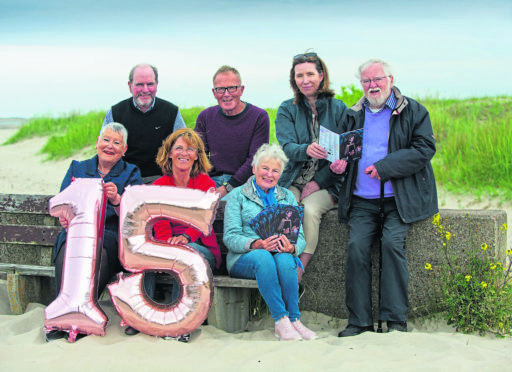 Controversial TV presenter and naturalist Chris Packham is to headline the 15th Nairn Book and Arts Festival.
Organisers have announced that the passionate and often outspoken conservationist will appear on the last day of the festival, which runs from September 11 to 16.
The BBC has stood by the presenter on numerous occasions following complaints, including recently when they said he did not breach impartiality guidelines when he told Autumnwatch viewers that glyphosate and neonicotinoids were 'proven' to be harmful to insects.
The veteran nature presenter is also an outspoken critic of fox hunting and badger culls, and has been accused of abusing his position on television to promote his political views.
He has also called for the giant panda to be allowed to die out, claiming the species is not strong enough to survive on its own and that the millions of pounds spent preserving it could be better spent elsewhere.
The Really Wild Show and Springwatch presenter is part of an ambitious line-up including the National Theatre of Scotland, Canadian country singer Tia MacGraff, popular ensemble The Blueswater, former Edinburgh poet laureate Ron Butlin, award-winning poet Em Strang, authors Andrew Greig, Mick Herron and Gavin Francis, as well as STV chief reporter Mike Edwards.
The town's High Street will be a focal point, with arts company Wildbird lighting up first floor windows with images of local residents in Nairn Street Scene, and shops decorating their windows in festival colours.
Mary Helen Dewar, the new festival chairwoman, said:  "This is the festival's 15th year and we're celebrating in style with some stellar events.
"In addition to the wonderful Chris Packham, and our collaboration with arts company Wildbird, we present some of the country's best authors and poets, alongside some excellent local writers.
"Performance in many guises features strongly; I'm delighted that the National Theatre are returning to the Festival, joining superb musicians, and award winning poets, in taking the stage.
"We hope that our Open Exhibition will attract artists from across the Highlands.
"Kids' Day is a packed day of free events for young people, and we're bringing some excellent authors into the area's schools.
"We've put together an ambitious and imaginative programme this year, made possible by essential funding from Creative Scotland and the Highland Council, together with many local sponsors – we're very grateful for that support."