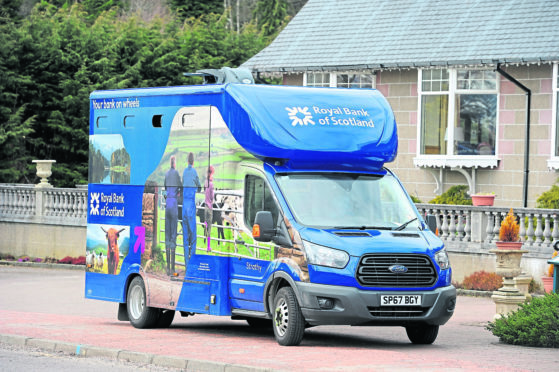 Anger has been expressed after it emerged that the RBS mobile banking vans replacing local rate-paying branches across the north don't have to pay for street trader's licences.
The publicly-owned bank announced earlier this year it would close 62 branches in Scotland.
Then 10 were given a "stay of execution" until the end of the year, including Beauly, Castlebay on Barra, Inveraray, Melrose, Kyle of Lochalsh and Tongue.
RBS has said it will offer internet banking, mobile banking and Post Office banking instead of the closed branches.
Mobile vans already operate, have operated or are due to operate in Castlebay, Beauly, Kyle, Tongue, Inveraray, Turrif, Ellon, Dyce, Westhill, Stonehaven, Peterculter, Banchory, Aboyne, Ballater, Tarland, Insh and Kennay.
Branches in Wick, Aviemore, Nairn, Grantown on Spey, Banff, Turriff, Dyce, Bridge of Don, Ellon and Huntly are all being axed.
Rural councils across the north including Highland, Moray, Shetland, Western Isles, Argyll and Bute and Aberdeenshire have confirmed they don't charge RBS to operate in their areas. However Aberdeenshire said it would review the situation.
Prices vary for street trader licences, but in Moray for example, the cost of a licence is £375 for a maximum of three years.
Western Isles MP Angus MacNeil called for a change in the rules so that the mobile vans be charged in some kind of way to operate. He said: "Banks claim vans do the same as branches. If so then they should be treated the same and a loophole that perverses incentive to close branches must be closed."
A spokesman for RBS said: "We work closely with all councils in the areas our vans visit. Where the relevant council requires a trading licence we will work with them to obtain one. Different councils across the United Kingdom have different rules regarding trading licences and we monitor these rules closely."
A spokesman for Aberdeenshire Council said: "We have not asked RBS to submit licences for their mobile banks at this stage and are giving consideration as to whether licences are required for the provision of such a service."
Moray Council said: "Moray Council have never been asked for nor have issued a licence to mobile banks. The legislation does not appear to be specific on requirements for mobile banks in this regard."
Highland Council said: "We have not previously insisted on mobile banks having street trader licences as, although they are handling money, they are not carrying out a service for money or money's worth in the public place, so don't come within the definition of street trading."
Shetland said: "Our Environmental Health team have advised mobile banking activity is not considered licensable under the relevant legislation. No mobile banks in Shetland are required to apply for, pay and obtain a street trading licence."
Western Isles and Argyll and Bute said licences aren't required. No vans operate in Orkney.