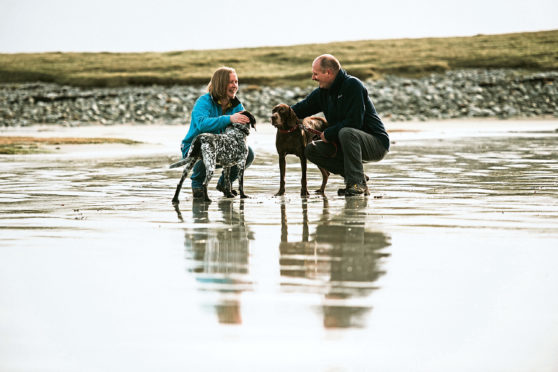 A husband and wife distilling team have moved production of an award-winning gin they launched last year from the mainland to their home island of Colonsay.
Fin and Eileen Geekie, who set up Wild Thyme Spirts after moving to the Inner Hebrides from Oxfordshire two years ago, are also planning to take on local staff to help with their business.
The couple's first product, Colonsay Gin, has until now been made at one of Scotland's smallest distilleries, Strathearn, at Methven, in Perthshire.
Mr Geekie said: "We are so excited to be bringing production home to the island. Our first year has flown by and this part of our plan has come around quicker than we could ever have imagined.
"We're now looking forward to releasing our first island distilled batch and also employing our first islanders – a few extra pairs of hands will come in very useful."
The first island batch has been named Wild Thyme 909 and is a limited edition bottling of their double international award winning original product.
The gin is distilled with seven botanicals – juniper, angelica root, calamus root, liquorice root, orange peel, orris root and coriander seeds.
Lying between the islands of Islay, Mull and Jura, Colonsay is reached by a two-and-a-half hour ferry journey from Oban, on the west coast. The Geekies self-built their home there, after relocating in 2016.
The have negotiated an exclusive agreement with the Colonsay Estate to hand-forage for botanicals on the island, which includes access to the gardens and grounds of Colonsay House.
The arrangement gives them scope to experiment on a commercial scale with a wide range of local plants to help create future products.
Mr and Mrs Geekie also offer a 'Gin Lover's Retreat' weekend package, which, they say, allows guests to "unwind and enjoy all things gin whilst fully embracing the island experience."
The package includes full board, cocktails on arrival, a formal gin tasting and access to the couple's collection of gins from around the world.