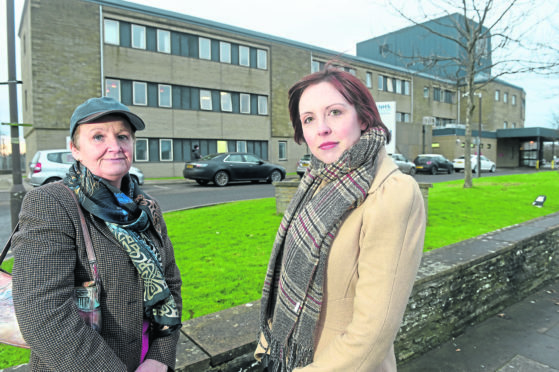 A Highland councillor has resigned as a health campaigner for a north action group, claiming it has become too "militant".
Nicola Sinclair, who represents Wick and East Caithness, helped found the Caithness Health Action Team (CHAT) while pregnant with her second child in 2016, in a bid to save local obstetric-led services in the region.
CHAT was formed to fight against the maternity unit being downgraded to midwife-led, leaving many pregnant women facing arduous 200-mile round trips to Inverness to give birth.
After two years of intense campaigning, she has now made the difficult decision to step down as she feels the group's overall approach has taken a turn in the wrong direction.
In an open letter to campaigners yesterday, she wrote: "It is with a heavy heart I am offering you my resignation from the group.
"As you know, I have been concerned about the tone and strategy of the campaign for some time now, and I have tried without success to suggest a more constructive approach.
"Unfortunately I believe the group has lost its way. It's my opinion that if you only shout all the time, people will eventually stop listening. I think CHAT is in danger of fighting for fighting's sake, and this militant and divisive attitude will do more harm than good."
She praised the group's efforts in having their voices heard during the "Redesign" stakeholders meetings and their contribution towards the idea of 'care hubs' in the east and west.
However, she stressed that recent comments made on behalf of the group had left her disappointed.
She added: "To go through this entire process as an active and enthusiastic participant only to then undermine it in the media, inferring that the process was somehow 'rigged' and the care hub concept fundamentally flawed is frankly irresponsible.
"Talking to the press can be difficult, and it's tempting to make big headline-grabbing statements, but we have a responsibility to the people who have supported us and that means being honest, open and fair in how we communicate.
"It also means being fair to the wider membership and taking the time to consult them before taking such a stance."
Despite leaving the group, Mrs Sinclair says she remains committed to speaking up for the people of Caithneess and hopes the group can get back on the right track saying: "I do believe that CHAT was once, and can still be, a powerful voice for positive change. I hope you find your way again."
Chairman Bill Fernie said he 'did not wish to comment at this time' prior to a group meeting taking place today.