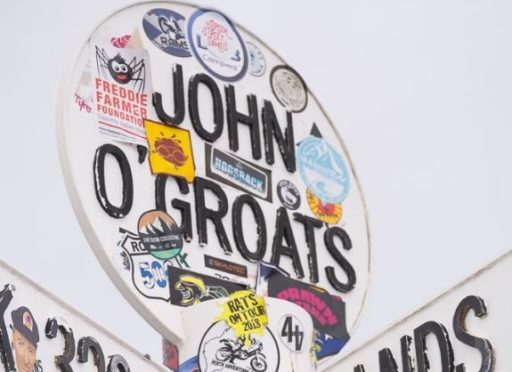 The world famous John o'Groats signpost is under threat – from visitors who have covered it with stickers.
Tourists keen to leave their mark at the 'end of the road' have smothered the iconic marker with stickers – and just a few more will leave it illegible.
Now the local community council has begged tourists to stop – before they obliterate the famous name completely.
Seven-year-old becomes the youngest to cycle from Land's End to John O'Groats https://t.co/UzIpp0J1uU pic.twitter.com/73xzEbUGmJ

— Bike Insider (@bikeinsider) September 9, 2018
Mark Gibson, secretary of Dunnet and Canisbay Community Council, said: "I think it's a craze that's got out of hand – once someone puts one sticker on, everybody seems to think it's okay.
"John o'Groats is set in a beautiful landscape and we very much welcome visitors to share it with us. We get visitors from around the world, including the famous "end to enders".
Rhoda Jones is the Youngest Child on record (pending validation) to cycle from Land's End to John o'Groats – 4 years, 4 months. Her time of 22 days, 3 hours, 26 minutes was narrowly beaten by big sister Ruth (5) who's the fastest by trailerbike. Thank You to all who supported us. pic.twitter.com/6hOYKzfAYk

— Family ByCycle (@FamilyByCycle) September 2, 2018
"Although a small minority of people may wish to leave mementos of their visit on the sign this leads to the situation we have now where even some of the lettering is being obscured.'
"All we ask is that people leave things as they found them, for those who come after them to enjoy.
"The community council was alerted to condition of the sign and believe that a refurbishment is now due."
John O'Groats it's been wonderful. You could've treated us better with the weather, but hey-ho. Heading back down to Inverness to complete the #northcoast500 pic.twitter.com/iqqqVca6Ch

— slinks (@slinky1876) September 18, 2018
A trip to John o'Groats, Caithness, is on many people's bucket list – and no visit is complete without a picture of the sign, which is so popular there's often a queue.
As well as the iconic name at the top, the sign points the way to Shetland, Edinburgh and, of course, Land's End.
The community council has now asked Natural Retreats, the company responsible for the sign's upkeep, to clean it.
85 year old Peter has safely landed in John O'Groats after 26 days, 1147 miles, lots of adventures, many acts of friendship and kindness. Amazing! Thanks to all for your incredible support and donations. #lejog #sustrans #UKCycleChat #MSF pic.twitter.com/6n6VjDV2fg

— Peter Langford (@bikeride85) September 12, 2018
A spokeswoman for Natural Retreats said: "Our on-site team, based at John O'Groats, clear the stickers from the signpost each and every winter, once the season starts to quieten down.
"The reason this is undertaken during the winter season is to ensure we don't disrupt the high volume of visitors and their experience during the rest of the year, as we fully recognise how iconic the journey to this landmark is.
Lossiemouth to John O'Groats. Lucky with weather so far. Resting in Thurso. pic.twitter.com/ltU7H1iOay

— @Round the outside (@OutsideRound) September 8, 2018
"Due to the size of the sign, and the labour-intensive nature of the sticker removal, our team need to spend at least a full day working to restore it to its former glory."
John o'Groats is not the only Scottish sign suffering from the sticky plague.
Also affected are the settlement of Cock Bridge in Aberdeenshire and the twisting mountainous road Bealach na Ba, or 'pass of the cattle', in the Highland peninsula of Applecross.