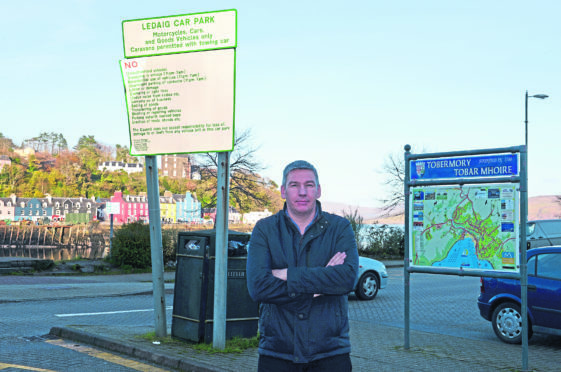 Thousands of opponents have signed a petition calling for the abandonment of plans to impose significant new parking charges on Mull.
Argyll and Bute Council plans to begin charging at a variety of car parks across the island and introduce residents' parking permits costing £475 a year.
The charges would impact upon visitors to Tobermory – better known to many visitors as Balamory – and those who take ferry trips to Iona Abbey.
Supporters of the campaign, Stop Argyll Council, say charging for parking to visit the island is a "cash building exercise" that will simply stop people visiting local shops.
Under the proposals, £1 per hour charges would be introduced between the hours of 9am and 6pm for various sites around Fionnphort, at the St Columba Centre and near the ferry slip to Iona, at the long stay car park and the toilets at Craignure where the ferry to Oban leaves and in Ledaig car park in Tobermory.
Residents say the plan has not been fully thought out as weekly visitors to Iona could be forced to pay significant parking charges to stay on Mull while on holiday.
Residents are being offered an annual permit for £475 a year. The equivalent arrangement in Highland Council is just £240 per month.
The petition has been started by business owner Neil Morrison, who said: "Argyll has Bute council is introducing charging for parking on the Island of Mull.
"This, in my opinion, is a cash building exercise and will dramatically effect our island's economy.
"The proposed plan will not only impose extra taxation on residents and visitors, but will cause mayhem in our towns and villages by driving vehicles onto already overcrowded streets.
"I am encouraging everyone to please sign the petition at change.org and email objections to Argyll and Mute Council by November 16.
---
>> Keep up to date with the latest news with The P&J newsletter
---
"People already have to pay heavily to get to the island and charging them to visit our shops and businesses is just silly.
"It will only push people onto the streets where we don't charge or, worse still, people just won't bother stopping at all.
"Island businesses are already hard-pressed. There is no need to make an extra tax."
Commenting on the petition, John Poynter, who lives on Iona, said: "People coming to stay one night or more on Iona will have to keep going back to Fionnphort to top up their parking charges, also adding extra cost for holidaying on Iona."
Gemma Paterson said: "There doesn't appear to have been an appropriate or adequate consultation, as these plans have so many implications for residents and visitors that by far outweigh the council's rationale behind this proposal."
Ewen Leckie added: "My dad runs a small shop on the Main Street and I believe this could effect not only his business but everyone who relies on steady visitor trade on the whole island. Visitors and locals alike should be made to feel welcome, not forced to cut short their stay and move along."
Argyll and Bute Council was asked to comment, but had not done so at the time of going to press.
---
The Isle of Iona is the tenth most visited historical site in Scotland and welcomes more than 250,000 visitors to its largely car-free roads every year.
Most visitors must leave their vehicles on Mull, with Argyll and Bute Council carefully controlling who is allowed to take a vehicle onto the island.
There are strict terms to meet if you take your car on the ferry, including being a Blue Badge holder, the driver of a delivery vehicle or being a permanent resident on the island.
Of the 170 permanent residents who live on the island, however, less than 30 are understood to keep a car there.
Day visitors park cars on the "other side", at Fionnphort, where over the past decade parking charges have only been enforced in one area.
Other spots to park on Mull, include a 150 space car park at the former museum at the St Columba Centre.
Until now, visitors and residents who do not need a car on the island, have been allowed to park at no cost.