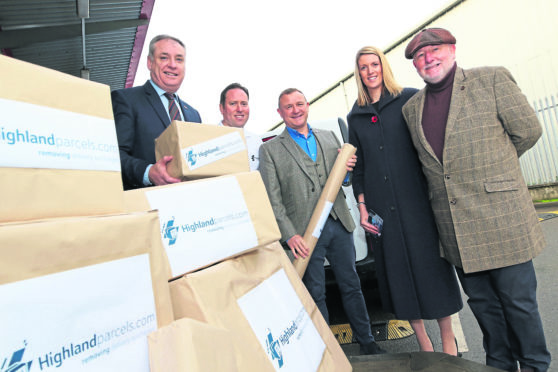 A new parcel delivery service charging a flat fee across the north was hailed as "a potential game changer" for a "disgraceful situation".
Drew Hendry MP was speaking at the official launch of Highland Parcels, a venture by Menzies Distribution aimed at easing the extreme delivery surcharges experienced by North residents.
A flat rate delivery fee of £4.99 is to be offered to customers that will enable delivery to any of the courier's 17 depots.
New parcel delivery service to cut fees in rural north communities
Mr Hendry said: "This is a fantastic step towards tackling the £36 million surcharge that Scotland has got that affects particularly the Highlands and Islands.
"It is a disgraceful situation that has lasted too long and this measure by Highland Parcels to tackle this by putting in flat rate is really welcomed news and I think it is a potential game changer.
"It is about time people got proper protection in the Highlands. This is a great move but it isn't an end of the unfairness."
---
>> Keep up to date with the latest news with The P&J newsletter
---
The latest development was also welcomed by Richard Lochhead MSP, who has long campaigned against unfair delivery charges, and hoped others would follow suit.
Mr Lochhead said: "I am hugely encouraged by the launch of the Highlands new parcel service. This is one commercial operator making a difference that hopefully others will follow suit.
"We need all companies to stop misleading consumers and we want everyone to review their delivery surcharges to make them fair, transparent and consistent."
The Moray MSP will now meet with Kelly Tolhurst MP, the UK Government's Minister for Small Business, Consumers and Corporate Responsibility with discussions to take place to ensure unfair delivery surcharges are a thing of the past.
Fraser MacLean, Menzies Distribution general manager, said: "Everyone recognises there is a slightly higher cost to delivering in the Highlands and Islands due to ferries or distances of journey, however, in this solution we have chosen the same price for Lerwick, Kirkwall and Stornoway that we have for Inverness."
"I am really proud we have found the Highland solution to a Highland problem. We have also worked with companies like Woodys Express, JBT and Streamline on islands like Orkney, Shetland and Lewis so in that sense we have had three island companies working with us because they want to be part of the solution so I think carrier companies are keen to resolve the problem."
Customers across the region have been found to pay anywhere between £12 and £18 on the average cost of delivery in comparison to the UK average of £5.02.
Local business owner Willie Cameron said: "It is part of our way of life – every single day deliveries come into our shops.
"I think people of the Highlands will be absolutely delighted."
Fiona Houston, director of Fish Box, who deliver their seafood subscription direct to consumer's doors, said: "Hopefully consumers will start to change their feelings towards online delivery and realise it is something the Highlands can have access to regardless of the geography."