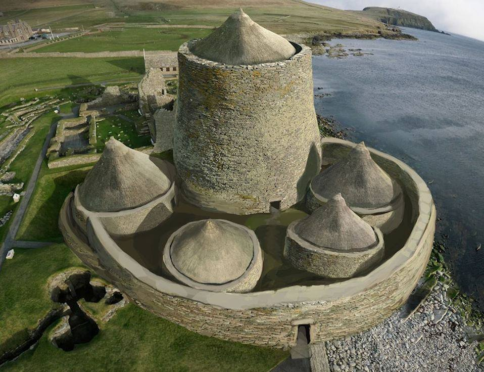 A Scottish archaeological charity is appealing to members of the public to help them raise £5,000 to bring the nation's Iron Age past to life.
The Caithness Broch Project (CBP) aims to build a replica structure near Thurso to help promote the country's rich history.
In a bid to bring their ambitions to life, the charity is appealing for financial help from members of the public.
It needs to raise £20,000 to complete its project design brief – which will enable it to secure further funding.
Kenneth McElroy, director with Caithness Broch Project, said: "The project design brief is a document that will help to inform and refine a number of points concerned in the project – from architectural design to sustainability.
"It is a vital component in the development of our plan to build the first broch in Scotland in over 2,000 years."
The design brief will help them determine the full scale and scope of the project, as well as answer crucial questions on certain architectural issues.
Leading architectural practice Hoskins Architects will be joined by Jura Consultants, one of the UK leading management consultancies, to help the charity put their ambitions down on paper.
More than £3,500 has so far been raised through the campaign which launched just days ago.
Thousands of pounds have already been raised by the charity through a collaborative project with local gin distillery Rock Rose, which saw the creation of a special 'Broch Rose Gin'.
The ambition plans, outlined by the charity last year, indicated the potential for the construction of a two-storey broch, featuring a timber roof.
Those behind the initiative believe the creation of the historic structure could cost anything in the region of £700,000.
---
>> Keep up to date with the latest news with The P&J newsletter
---
Were a visitor centre to be added to the attraction, costs could soar to between £1 million and £3.5 million.
Mr McElroy said he is hopeful the community will help get the project off the ground.
He added: "We think this is a really exciting opportunity not only for Caithness, but for Scotland, and we really hope the public will be able to help us on our way."
Brochs date back to between 400BC and 200AD in Scotland and were used as defence structures and place of refuge for communities and their livestock.