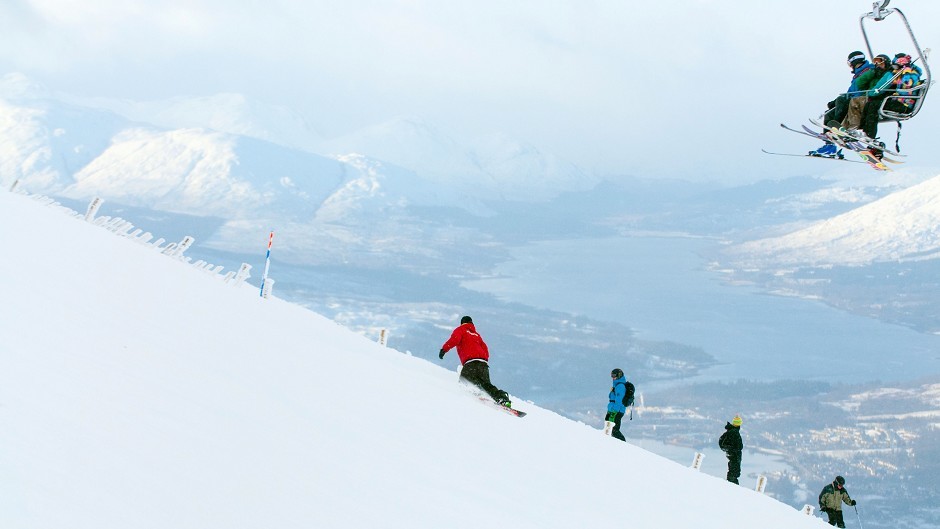 Thousands of skiers took to the slopes at the weekend as the coldest snap of the year brought a flurry of snow to resorts across Scotland.
Winter sports enthusiasts headed to the hills to make the most of "perfect conditions" for snowboarding and skiing at some of the centres.
And more flurries are expected today with the Met Office issuing a yellow warning for snow and ice across the region.
The Nevis Range reported the highest turnout of the weekend yesterday with hundreds of people taking to the slopes.
Chief executive Chris O'Brian said: "We have had over 2,000 people over the weekend so we are quite happy with that.
"Conditions are really good. We don't have complete coverage but we are happy with the way the weekend has gone.
"We have got snow forecast for tonight and through the week. A wee bit more snow and we would be absolutely fine."
And there was "good quality snow" covering the slopes at Glencoe Mountain Resort.
Managing Director Andy Meldrum said: "It's been really good. We have had 300 skiers and 300 people sledding and sightseeing so 600 people on the hill.
"Conditions have been excellent."
At Glenshee Ski Centre, the Dink Dink Plastic Rope Tow, Claybokie Butcharts Access and the Baddoch Chair were all in operation.
The roads surrounding the centre remained open, however, officials urged motorists to take care due to slippery conditions.
Skiers were also flocking to the Lecht Ski Centre.
Pieter Du Pon, of Lecht 2090, said: "Yesterday we had 980 people and today we have had about 1,800 so it's been a busy weekend.
"Conditions have been perfect today. The weather is just the way it should be with wonderful conditions.
"We are looking forward to a good week coming up."
The A939 road, between Cockbridge and Tomintoul was blocked for about 45-minutes after a car got stuck in the snow at 3pm. No-one was reported to be injured.
Meanwhile, the A947 near Plaidy was closed for a couple hours after a car skidded and hit a telephone pole at 12.30pm.
The Met Office warning will remain in place until noon today with the weather potentially causing travel disruption with public transport delays and cancellations.
Forecasters warned roads and railway lines were likely to be affected by the conditions and commuters were urged to take care when travelling.