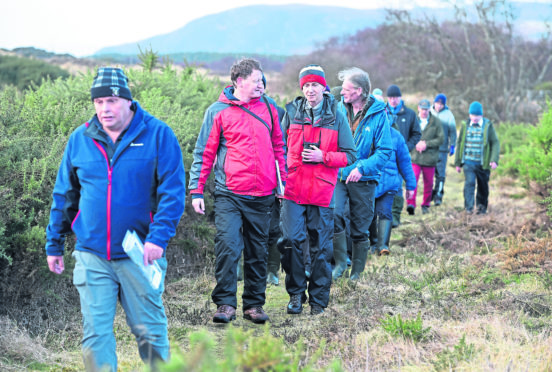 A site visit took place yesterday at the proposed Coul Links golf course.
The seventh day of the Government-led inquiry into the ambitious development of an 18-hole championship golf course  failed to get off the ground after one of the leading representatives fell ill.
Ailsa Wilson QC, for American developers Mike Keiser and Todd Warnock, was struck down with an illness, forcing Government reporters to postpone the proceedings.
Ms Wilson had been due to put questions towards developer's witness Dr Peter Cosgrove following the conclusion of day six's events.
---
>> Keep up to date with the latest news with The P&J newsletter
---
The session is to resume today if the QC recovers.
Representatives from all parties, including developers and opposition, used the newly acquired spare time to bring forward a visit to the proposed site.
They were able to see first-hand the juniper and rough extent of the dune heath that has been thoroughly analysed over the course of the inquiry's entirety.
Government reporter Tim Brian re-opened the inquiry at 9.30am yesterday for all of nine minutes, announcing Ms Wilson's illness before laying out the arrangements for the proposed site visit.
Mr Brian said: "As most of you will be aware we have hit a snag this morning. Unfortunately, Ms Wilson is unwell and unable to take part in the proceedings so that means we are not going to be able to take the inquiry forward today.
"She was in the midst of re-examining her witness and that business, together with the remaining witnesses for the applicant, will have to be deferred until tomorrow.
"It would be very advantageous to have the site visit today.
"It is something we would normally schedule for the end of the inquiry, but we have already heard a great deal of evidence.
"We feel we already know the site to some degree by our own unaccompanied site inspectors but we would learn a lot more by touring the site accompanied by those who know the site better than we do."
The site visit went ahead as planned yesterday afternoon, allowing an up-close examination of exactly where the proposed championship golf course will be located if approved.
The inquiry, which was triggered by Scottish Ministers who for "issues of national importance in relation to natural heritage issues", is anticipated to conclude in two weeks' time.