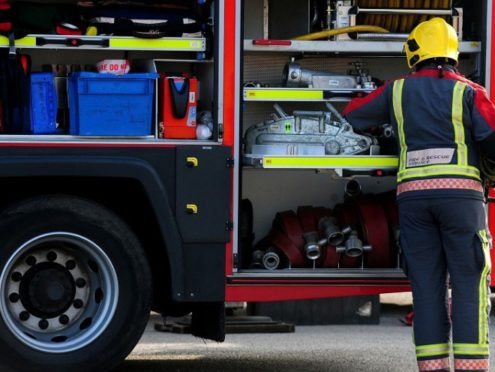 Residents of a Highland village were evacuated from their homes last night after a fire broke out on the Strathspey Railway.
Around 35 properties were left without power while firefighters battled to bring the blaze under control in Boat of Garten.
The "well-developed" fire started in a corrugated iron workshed belonging to the Strathspey Railway, located just a short distance from the local Golf and Tennis Club.
As emergency crews continued to work the scene, several local residents described hearing a number of loud explosions.
David Scott, 78 said: "I was sitting in my conservatory watching the one o'clock news when I heard this bang. I thought what was that? Then I heard another bang and this kept on going, about 10 or 11 of them.
"I went outside and there was a huge black cloud of smoke. I thought the first explosion was to do with the power cables being removed."
Dr Kenneth Chrystie said: "It was like a bomb. There were a lot of explosions."
His wife, Mary added: "We heard an explosion about 1.45pm. They are doing work up the road, so I thought it was something to do with that, then I saw the smoke."
A total of 20 firefighters from Kingussie, Grantown-On-Spey and Tomintoul were dispatched to the scene alongside a water unit from Inverness following reports of the blaze around 1.40pm.
Station Manager Robbie MacDougall, the incident commander, talked about the scene which greeted fire teams.
He said: "On arrival, we were faced with a well-developed fire involving cylinders and machinery. Crews adopted a defensive approach and we have had two gun monitors and two jets to cool the area and extinguish the fire.
"The initial concern was the cylinders inside. It was a large corrugated iron shed, so in terms of getting access, we couldn't go too close to it just for the safety of crews.
"But we managed to get a bit closer and extinguish it.
"We had to stop the Strathspey Railway line and had to carry out a 200-metre evacuation of the area."
Firefighters departed the scene shortly after 6pm with "one crew remaining on a watching brief".
Three teams from the Scottish and Southern Electricity Network (SSEN) were also at the scene isolating the power to a number of properties.
A spokesman from SSE said: "There was a low voltage fault in Boat of Garten at 4pm. 35 properties were affected and four engineers had the issue resolved by 6.23pm."