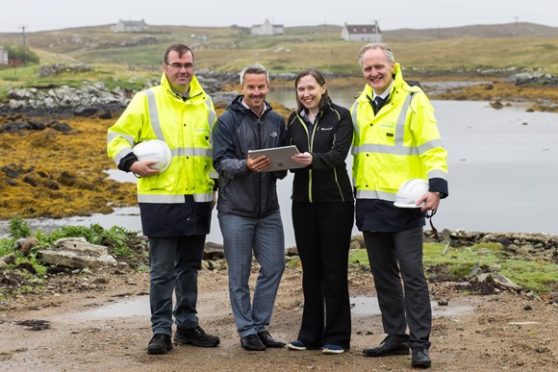 Two of the UK's most westerly island communities have swapped some of the slowest broadband speeds for some of the fastest – as a new full fibre broadband network goes live in the Western Isles.
The Scottish Government-funded Digital Scotland project reached Grimsay and Great Bernera in the Outer Hebrides today with 100% coverage of the island.
Islanders who previously used a wifi radio network link or satellite dish to gain access to broadband coverage are now enjoying speeds of one gigabyte per second (Gbps)– around 18.5 times faster than the UK's current average of 54 megabyte per second (Mbps).
On Grimsay – joined to North Uist and Benbecula by a causeway – every single home of the 113 households is now able to access reliable, ultrafast broadband.
While 100 miles north on Great Bernera – off the north-west coast of Lewis and linked to the main island by a road bridge – all 220 households can connect.
The two island communities have 100 per cent access to future-proof, full fibre networks built by engineers from Openreach through the Digital Scotland Superfast Broadband project, led in the area by Highlands and Islands Enterprise (HIE).
Built using 56 miles of new fibre cables, until now, the communities have been connected to the outside world by a wireless connection over an independent radio network, with a top download speed of around 2Mbps.
Business owner, and Grimsay resident Robin Spratt welcomed the new technology, he said: "There is much discussion in the islands about how to overcome the issue of depopulation, but good connectivity makes life in a remote location much more viable. Sort out the broadband and mobile connectivity and the problem solves itself."
Donnie Morrison, HIE digital senior development manager, who lives in Lewis, said: "With access to health, business, and lifestyle technology it's a huge benefit for those already living here, and in keeping and attracting our young workforce who want quality of life and global career prospects."
Robert Thorburn, Openreach's partnership director for Scotland, said: "This project is a game-changer for the people of the Western Isles, with a lasting legacy for the future. In a place like Grimsay, technology is truly life-changing – opening up markets and innovation for businesses and connecting islanders to each other, the world and vital services.
"There's more to do, but if we can bring full fibre broadband to a scattered community like Grimsay, then it can be done anywhere."