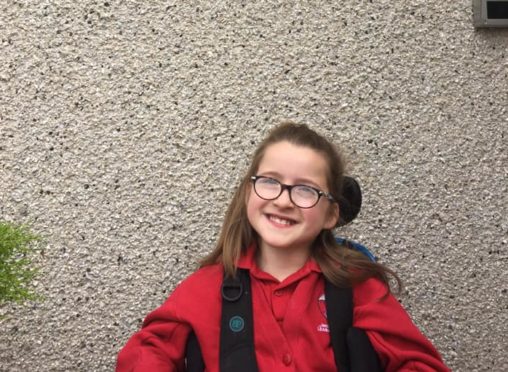 An Inverness family have launched a campaign to raise £25,000 to purchase a specialised wheelchair for their daughter.
Sophia Walsh, 10, suffers from Dystonic Quadriplegic Cerebral Palsy, a condition which affects all four of her limbs.
At just four months old, her parents Tracey, 42, and Steve, 53, noticed an unusual eye movement, sparking concerns about the youngster's development.
Following a series of tests, doctors provided the family with a 'working diagnosis' in the hope of pinpointing and treating her condition in the future.
However, daily tasks such as eating, holding a pen, or moving in her chair requires a great deal of help, taking valuable time away from Sophia's studies.
After a five-week trial using a Permobile F5 wheelchair, Sophia was able to stand for a class photo for the first time and participate in assembly, whilst providing relief to her sore muscles and legs.
She said: "I enjoyed standing for assembly, and it gives me independence to change position whenever I want.
"It would mean the world to me, because then I could finally feel like everyone else."
With less than two years to go until Sophia begins secondary school, her parents now want to give their daughter a newfound sense of independence.
Mrs Walsh explained: "Sophia is in primary six now, so obviously she is heading towards high school and we thought this was a good time because obviously it's going to take us a while to raise this money for her.
"The wheelchair doesn't just enable her to stand, it reclines fully and lets her change positions throughout the day.
"We just felt this would give her that extra bit of independence and make her feel like she is doing the same as everyone else."
To help raise the funds to purchase a chair of her own, her family have now launched several crowdfunding appeals, which have raised more than £3,000 in donations.
Mrs Walsh added: "As a parent, you want the best for your child, you want them to be able to reach their full potential and things are tricky enough for Sophia.
"So we want to try and help her as much as we can, so she can do as much as she can.
"She is really motivated and wants to do it and she loved having it."
Responding to the public's outpouring of support, the mother-of-three said the family were "overwhelmed" by their generosity.