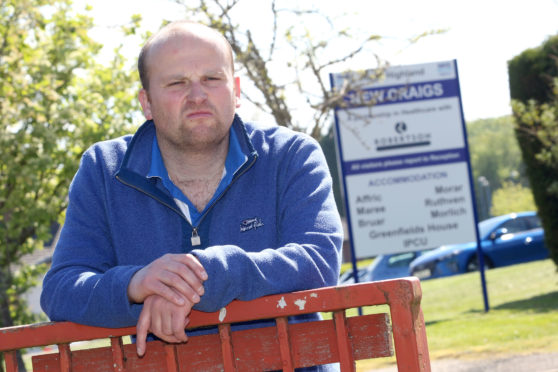 A watchdog has heavily criticised NHS Highland's handling of the care of a psychiatric patient – a victim of the Cyril Smith-linked paedophile ring – who waited five years for treatment.
The Scottish Public Services Ombudsman (SPSO) has upheld a series of complaints made by Caithness man Peter Todd.
The decision is a provisional one with the health board given until next week to respond.
But Mr Todd describes the mismanagement of his care to being akin to the bullying scandal which has hit the Highland health authority, and was outlined earlier this year in the Sturrock Report.
He has vowed to sue NHS Highland over "a series of failures" – a number of which have now been upheld by the SPSO.
The ombudsman, in a 19-page provisional ruling, said the board "unreasonably failed to provide overnight accommodation" when he attended New Craigs psychiatric hospital in Inverness for treatment from his Thurso home.
They said the board failed to investigate and keep appropriate records of complaints about his conduct at the accommodation, which led to him being refused entry, and they failed to respond appropriately to his concerns about their handling of the affair.
The SPSO also highlighted "a failing" in the way the health authority dealt with their own inquiries about specific emails from politicians seeking answers about Mr Todd's care.
NHS Highland recently made an admission that it provided "misinformation" to seven politicians, including MSPs David Stewart and Edward Mountain, over the handling of care provided.
The ombudsman said it took three attempts to obtain all the relevant information it had requested, adding: "This caused additional delay in completing the investigation."
Mr Todd, 37, yesterday expressed his relief at the ombudsman's findings, upholding all his complaints.
He said: "This has helped me rebuild some trust in the complaints system, which has been destroyed by the management of NHS Highland.​
"I blame no clinician for this shambolic state of affairs.​ This whole saga has caused me great distress which will take me some time to come to terms with and I feel will require further psychological treatment to deal with what as occurred.  ​
​"The management have shown an incredible amount of institutional arrogance."
MSPs David Stewart and Edward Mountain have requested information from NHS Highland about the "misinformation".
An NHS Highland spokesman said the SPSO report remained a "provisional decision" with responses to be made by next week, adding: "NHS Highland is not permitted to comment at this draft stage."