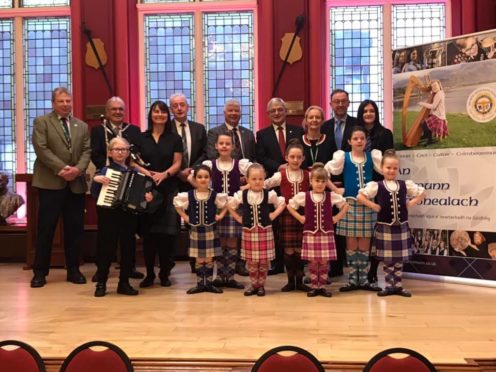 Gaels from across the north gathered in Inverness today to officially launch the Royal National Mòd 2020.
Scotland's largest Gaelic festival – organised by An Comunn Gàidhealach – will return to the Highland Capital in October, bringing thousands of competitors and spectators with it.
The nine-day event was last held in the host city in 2014, generating £3.5 million for the local economy.
During a civic reception at Inverness Town House yesterday, members of An Comunn Gàidhealach were joined by The Royal National Mòd Local Organising Committee 2020, Highland Council representatives and the Inverness Common Good Fund to speak about the economic and cultural impacts the 2020 festival will bring to the city.
Dancers from the Fraser School of Highland Dance were also on hand to put on a spectacular showcase during the event, giving attendees a flavour of what's to come when the festival returns next year.
Alisdair Barnett, convenor of the 2020 National Mod said he looks forward to welcoming the event back to his hometown and hopes it will generate greater participation from Gaels and Non-Gaels across the community.
He said: "I'm thrilled it's returning to Inverness because the Mod in 2014 was a tremendous success. It brought huge benefits in terms of the national impact as well as the energy and the buzz about Inverness when the Mod was on. I'm really looking forward to seeing it recreated."
The event comes less than two months after the curtain came down on the 2019 Mod in Glasgow.
The festival – which was held in the city for the first time in almost three decades – generated more than £2m for the economy as 3,000 competitors took to the stage to battle it out across 200 competitions.
Stewart Nicol, Chief Executive of Inverness Chamber of Commerce said the event is a positive aspect "for the city and the wider Highland Region."
He added: "It's a fantastic opportunity to really showcase the event in the capital of the Highlands.
"The National Mod tours various cities and towns around Scotland and it's really important we are behind it and really showcase all we can bring to the Gaelic language and culture. I think it's really important businesses are fully engaged in this and behind it."