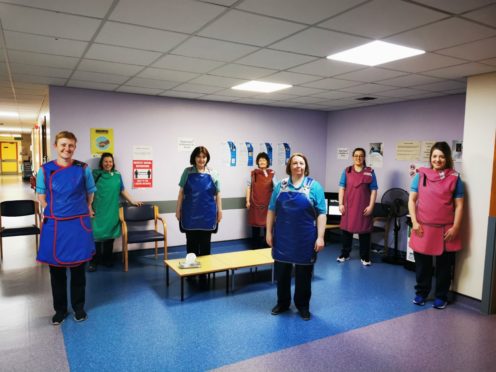 Staff in NHS Western Isles' radiology department are donning their heavy lead aprons to walk a marathon in their lunch hours to raise money for two charities.
The 14 staff will walk 1408 lengths of the x-ray corridor, the equivalent of 26 miles , by the end of this month.
Their lead aprons will add an extra 17lb in weight to their exertions.
The fund-raising team includes radiographers, sonographers and admin staff; full-time, part-time, bank staff and locums.
They plan to complete 12 marathons all round by the end of May.
Radiographer Ciara Mackenzie, said: "We were inspired by the 2.6 Challenge that was created after the London Marathon was cancelled.
"We remembered that some years ago a radiographer ran a marathon in a lead apron, and that is where we adapted our fundraising activity from."
The two charities being supported through justgiving.com are Crossroads Lewis and the Royal Osteoporosis Society.
Radiographer Shuna Mighton said "The Royal Osteoporosis Society has supported our radiology department a great deal over the past six years, first in setting up our bone densitometry service and then in establishing our fracture liaison service.
"Like many charities, their funding sources have been reduced considerably during the COVID-19 crisis so we wanted to do something to help them and repay the work they have done to support us."
Ms Mackenzie praised Crossroads for their supporting work in the community during the coronavirus crisis.
She said: "They are unable to do any of their usual fundraising events while still providing a crucial service with depleted staff."