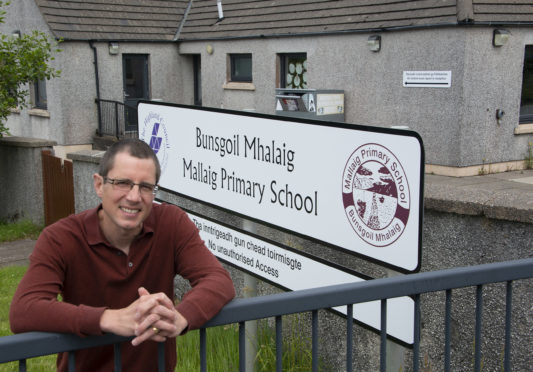 A concerned parent has called for increased funding and more teachers to ensure children across the Highlands are not delivered a "substandard education".
Rob Hamilton, who has two children at Mallaig Primary School, has spoken out after being told children at the Lochaber school will only be monitored for two-and-a-half days per week once schools return.
He has questioned why community facilities such as leisure centres and town halls cannot be used to ensure children are delivered full-time education monitored by teaching professionals.
His concerns come after a letter was issued to parents across the Highlands outlining plans to return to school in August by head of education Nicky Grant.
Mr Hamilton said: "My issue really is because of the restrictions kids are going to continue to have a substandard education indefinitely.
"The restrictions are what they are for safety reasons, and we all respect that, but reduced capacity in practice for our school means that kids are going to only be in two days a week.
"The school are doing their very best in difficult circumstances but need help on a national level."
In her letter, Ms Grant said teaching will take place in smaller groups, staggered arrival and departure times will be implemented, more outdoor spaces will be used for learning and hygiene practices will be delivered to "as high a standard as possible".
Mr Hamilton added: "When it all kicked off, the NHS didn't have enough staff and there was this big drive to recruit retired doctors.
"You could do the same thing with retired teachers and get a lot more staff involved if there was the drive and the political will behind it.
"Ultimately it comes down to the fact there isn't any additional funding being made available to provide a decent education for our children.
"It seems the government think full-time education is a nice to have when it is absolutely a fundamental part of our society and it is just not OK."
A Highland Council spokeswoman said discussions regarding its 203 schools are ongoing and no decisions have been made.
She said the wellbeing and safety of children, staff and communities is their "top priority".
The Scottish Government have said councils are expected to use "innovative and creative ways" to maximise classroom time once schools return.
Work by the General Teaching Council is already underway to contact teachers on the register and not in post, with 3,630 teachers already identified should their services be required.