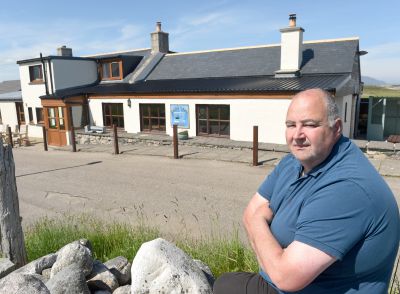 Residents living in one of the biggest police "beats" in Europe have voiced concerns over cover because the local constable is shielding.
With an area of 900 square miles, north-west Sutherland has been compared to the fictional "Lochdubh" patch covered by TV bobby Hamish Macbeth.
But these days, with four million visitors to the region each year and 70,000 alone descending on Smoo Cave, the area is not just a peaceful backwater, especially with the tourist season restarting today.
The current officer, based in Rhiconich, is shielding from coronavirus – meaning Tongue, at 30 miles away, or Lochinver, at 52 miles away, are the closest stations.
Durness business man Robbie Mackay said scant police resources have always been a concern in the area.
He recalled a past incident in his bunkhouse, when the police had to be called.
"They came from south of Ullapool, one and a half hours away, and then needed back up which had to come from Tain, more than 80 miles away."
Mr Mackay owns the shop, post office and petrol station, and a number of accommodation rentals.
He said: "I  heard an alarm go off at 1am the other night and thought if there was no officer in Tongue or Lochinver, they would have had to come from Ullapool, 72 miles away.
"Tourists have been flocking in and problems of wild camping have begun, so it would be nice to have a bobby nearer."
Christine Mackenzie runs the Spar in Kinlochbervie.
She said: "The worry is if tourists are camping in the wrong place and leaving mess and litter, things the police can have a word with them about.
"We know they can come from Ullapool but it is concerning."
MP Jamie Stone has written to justice minister Humza Yousaf asking what plans Police Scotland has to relocate additional police staff to north west Sutherland to cover the area as tourism re-opens.
He said: "Mr Yousaf said support will come locally and be provided by resources from elsewhere in the command area, wider division and other national departments as required.
"Public confidence in policing is crucial to effective enforcement.
"Right now, we need to bolster that confidence, especially as we begin to open up the Highlands to tourists."
Sutherland councillor and hotelier Hugh Morrison said he had recently been told that police in Ullapool, Lochinver and Tongue would be doing as many regular patrols as they can efficiently manage, and that traffic patrols would also be coming up from Dingwall and Inverness.
He said: "My message to residents if they see something wrong is not to take the law into their own hands but to take a step back and phone 101 or 999 if it's serious, and the police will have to come from wherever they have to."
Chief Inspector Jamie Wilson, North Highland Area Commander, said: "The area of Rhiconich is managed by Dingwall and Wester Ross policing team with support from officers at the main hub in Dingwall as well as Gairloch, Ullapool and Lochinver.
"We have a comprehensive and flexible resource plan in place which allows us to adapt to specific demands and ensure our communities are policed appropriately.
"The Highlands and Islands road policing unit is based in Dingwall and carries out daily patrols across the west as part of our ongoing efforts to improve the safety of the road network."