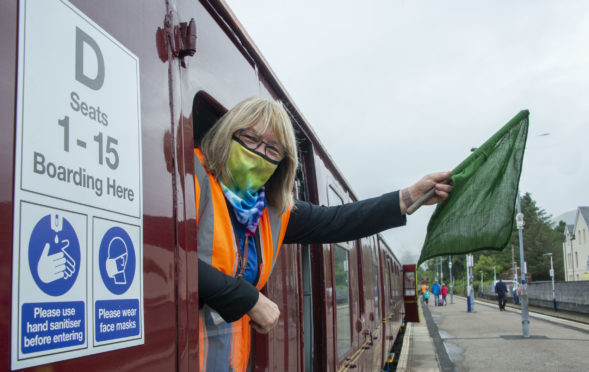 Steam billowed high into the sky above Lochaber as the world-famous Jacobite steam train returned to action.
The famed locomotive, dubbed the Harry Potter train, was one of a number of tourist attractions to reopen following the easing of the latest phase of government restrictions.
Despite restricted capacity onboard of around 100 passengers, an air of excitement still lingered as passengers boarded the train in face coverings for the journey along the renowned West Highland Line from Fort William to Mallaig.
Train manager Florence MacLean, who also donned a mask while welcoming passengers, had to master a new way of blowing her whistle for the off.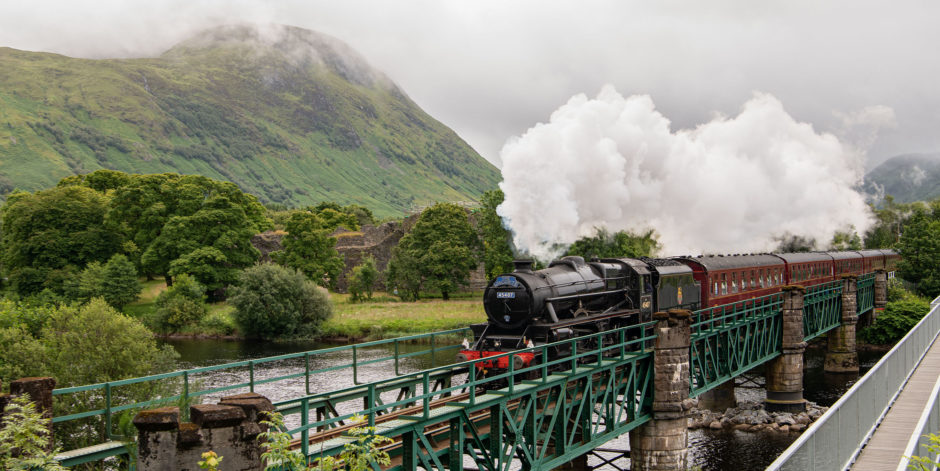 She said: "It has been a lot of work getting everything ready, but we have done it and are ready to go with all of the necessary requirements in place – although I'm not sure about blowing the whistle through my mask."
Social distancing measures have been implemented to ensure enough space has been left to allow for adequate distance, along with hand sanitising stations and passengers donning facemasks.
Enhanced cleaning is also taking place on the carriages between trips.
Despite poor weather, commercial manager for operators West Coast Railways James Shuttleworth said he was delighted to kick off the 26th year of the Jacobite navigating the line.
Mr Shuttleworth said: "We have had to put on all the necessary distancing arrangements in place which has taken some time but they have all worked very well.
"The passengers who have been with us have enjoyed themselves.
"We have hit the ground running and it is a big relief."
Mr Shuttleworth said the implementation of measures had "worked very well", adding: "I took a ride out in the morning and it is always a pleasure. I never tire of it – even after 26 years, it never gets boring.
"We have worked very hard and taken it very seriously so we can get going and hopefully do the best we can."
West Coast Railways have said the train is fully booked from the weekend, albeit at around a third of its usual 700 passenger capacity.
Watching from the platform yesterday as the train departed were Lesley and Carl McLaughlin from Cumbria, who have come to Scotland to follow the route of their honeymoon 50 years ago.
The actual date of their anniversary is July 11 and they had booked first-class seats on the train.
Coronavirus halted their plans but they will now be travelling on the steam train later this week to celebrate their golden wedding, which will also see them re-visiting their bridal route to Oban, Aviemore and Poolewe.
Mr McLaughlin said: "We were disappointed not to take the train on the actual day, but nothing could be done about that.
"We are here now and happily reliving our honeymoon in 1970."
The route, previously dubbed the greatest railway journey in the world, spans 84 miles taking in an array of impressive landmarks from Ben Nevis, the tallest mountain in Britain, to the nation's most westerly mainland railway station at Arisaig.