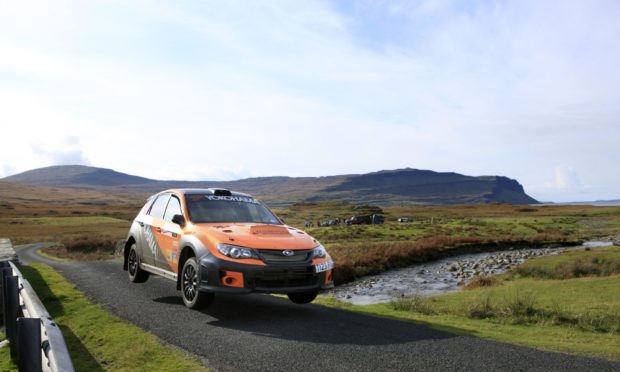 A world-renowned island rally event, worth £1 million to the economy, has been cancelled this year due to ongoing uncertainty over the Covid-19 pandemic.
The sell-out Beatson's Building Supplies Mull Rally was to have been held from October 8-11 but organisers say they are now committed to returning with a bigger and better event in 2021.
Clerk of the course Andy Jardine said those behind the event were unwilling to proceed given the possible risk of spreading the virus.
"It was looking good for a while," he said.
"October seemed so far off and things were opening up again, but now the end of July is looming and we just can't commit to running the rally not knowing how the situation will develop.
"It is tough for the team as we put a lot of effort into developing different ways to work with the coronavirus restrictions, but it isn't practical to cover all the eventualities and keep everybody safe.
"This year has been unprecedented in the way we've seen our sport simply stopped in its tracks by this pandemic.
"But we have to remember that an awful lot of people have been – and continue to be – affected in the most tragic way by coronavirus."
The rally was first held in 1969 in a very different form, later applying for closed road status, which required an Act of Parliament.
The first closed road rally in the UK was held on Mull in 1990.
Last year it returned after resolving insurance issues which forced the event to be  cancelled in 2017 and 2018.
The problem with staging closed road events came to light as a result of the Jim Clark rally tragedy in 2014, at which three people died.
Mr Jardine said demand remains "exceptional" with competitors from across the world seeking places before the event had to be cancelled.
"After the event missed a couple of years due to the insurance issue, we got the overwhelming message the Mull Rally was still a competitors' favourite when we broke the internet as entries opened in 2019.
"This has energised the team to use this break to take a step back and think about a review of the format of the event.
"We'll be getting our heads together in the next couple of months to see what can be done to freshen it up a bit.
"It goes without saying that none of our Octobers will be the same this year."
Mull Car Club chairman Fred Maclean added: "While some of the island is preparing for some sort of tourist season in the weeks ahead, there remains uncertainty and many places are not opening.
"Mull has remained apparently Covid-free throughout the lockdown period and there is a nervousness about what might happen when visitors return.
"This is the right decision for Mull and to ensure the rally is welcomed back in, hopefully, happier times in 2021."