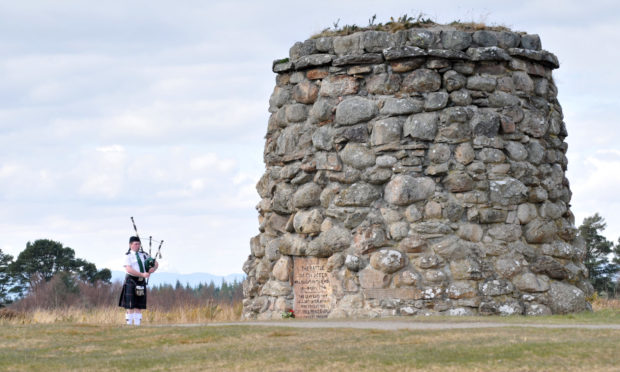 The guardians of Culloden battlefield are seeking joint action to prevent inappropriate development spoiling the historic site for future generations.
The National Trust for Scotland (NTS) says the integrity of the famous site is under threat from "piecemeal decision-making, unclear guidance and a lack of focused resource".
It has urged "active, collaborative and future-focused management" to preserve the battlefield's cultural landscape.
The NTS reveals the findings of its Culloden 300 consultation today, on the 275th anniversary of Charles Edward Stuart's arrival in Scotland, starting the 1745 Jacobite rebellion.
The report 'Living with the Battlefield' is the latest action by the charity to address increasing pressure from development.
Between now and 2046 – the 300th anniversary of the battle – it says there should be no new building at the site that "adversely impacts on the sense of place".
Its targets over the next five years include exploring land acquisition, as well as seeking World Heritage Site status, to increase the site's protection.
Raoul Curtis-Machin, operations manager at Culloden, said the trust is seeking support from Highland Council, Historic Environment Scotland and the Scottish Government.
"Without integrated planning, community support and a holistic response to the resource, it is likely that the cultural landscape surrounding the battlefield will be lost.
"This will happen not because agencies, communities and government do not value the site, but because we were not proactive enough in working together."
Around 3,000 people took part in the consultation. Results showed people wanted to  protect the battlefield's open aspects, unique atmosphere and place of history and remembrance.
Mr Curtis-Machin added: "The overriding feeling was that you can't preserve things in aspic. But what did come through loud and clear was we can't allow it to be further damaged or eroded."
Highland Council designated the Culloden Muir Conservation area in 2015.
A council spokeswoman said: "The council continues to consult with the National Trust For Scotland on proposals within the battlefield inventory area."
Inverness South councillor Ken Gowans said development has to be sympathetic to the area, but each application has to be determined on its merits.
Development near battlefield raised during Culloden consultation
In all, 68% of participants in the consultation came from Scotland, 11% from the rest of the UK and 21% from elsewhere.
Almost 40% highlighted the issue of development, with 22% saying they would not want to see development around the battlefield.
One respondent commented: "The thought of walking into an extremely important historical site with the horrendous view of a housing estate surrounding it makes me mad."
However, 15% were satisfied with limited development, although with concerns around visibility and that any development was low density and made from traditional materials.
And 7% felt that development in the area was necessary and to hold that back would be unfair on local landowners.
Additionally, some respondents felt the battlefield was not negatively affected by additional developments.