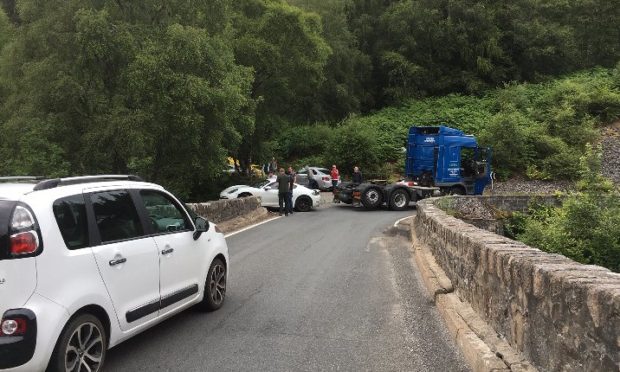 The driver of a Porsche is "lucky to be alive" as their car was left dangling over a 50ft drop after crashing into a stone bridge in the Highlands.
The accident happened on the B9176 near Ardgay at Struie Hill at about 4.30pm today.
Tailbacks formed at either side of the structure as the white supercar blocked the road in both directions.
The vehicle was later removed by a recovery lorry.
A Police statement read: "A Porsche car was involved in a collision on the B9176 at Struie Bridge around 4pm on Wednesday.
"There are no reports of any injuries."
Kevin Wheeler was at the scene and said: "I could see about half a dozen cars backed up and a McLaren parked-up with its lights flashing.
"That's when I noticed the white Porsche had struck the bridge.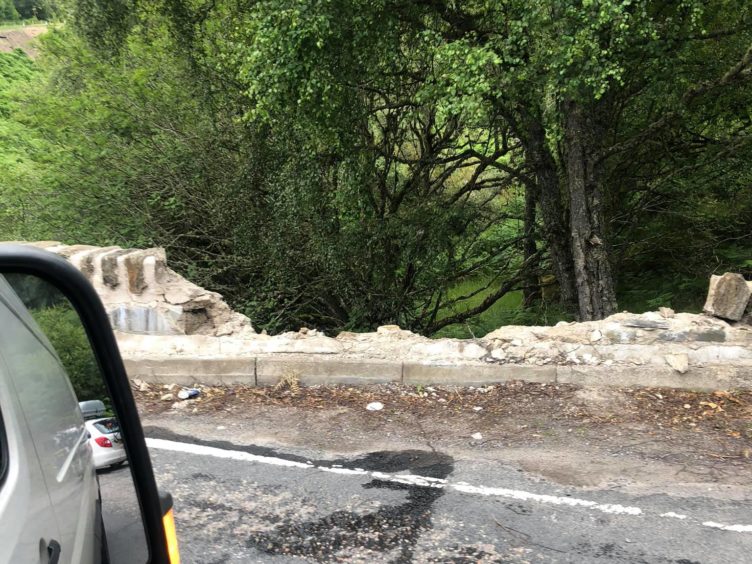 "A lorry was in process of towing the vehicle away, with the car's body work scattered across the road."
It is believed the car was hired as part of a package for drivers to enjoy the near-by North Coast 500 route.
Mr Wheeler said he has concerns about some of the driving on the roads.
"The NC500 undoubtedly brings economic benefits to the Highlands but it increasingly brings dangers as inexperienced drivers use the roads as a race track for powerful cars."
Lorry driver Alex Strang took pictures of the aftermath as he waited in traffic at the bridge.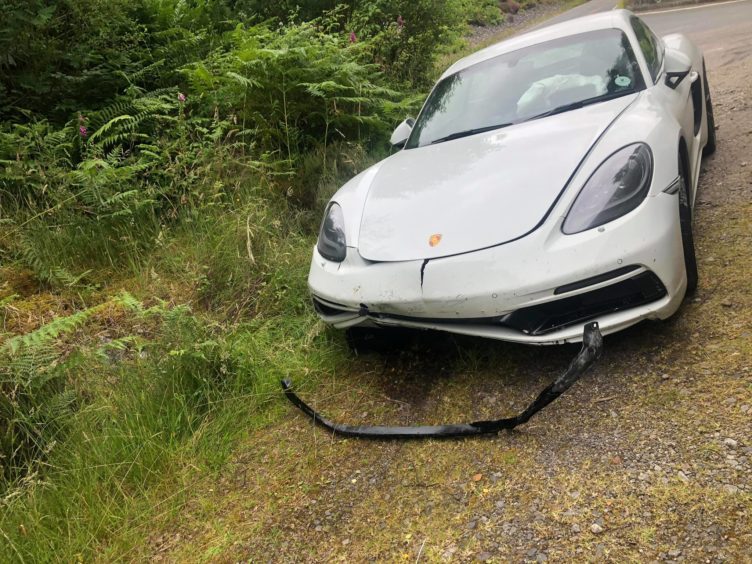 Describing the incident the 36-year-old said: "It is a sharp corner and I think the driver has not taken their speed into consideration.
"Work had been done to fix the wall following an accident last year, the driver of the Porsche has hit the same spot.
"They are very lucky to be alive."
Councillor Linda Munro said: "I am very pleased to know the driver escaped serious injury.
"Regrettably, what starts as a happy holiday can quickly become a life tragedy.
"I ask those using the route to please drive with care."
Councillor Hugh Morrison said: "The natural beautiful scenery is there for all to see, but unfortunately if you are not too careful the roads can catch you out as well.
"I think the message is to respect the roads if you are not familiar with them.
"Treat every corner with the due attention they deserve and drive within the speed limits as fast cars and inexperienced drivers on unfamiliar roads are a bad combination."