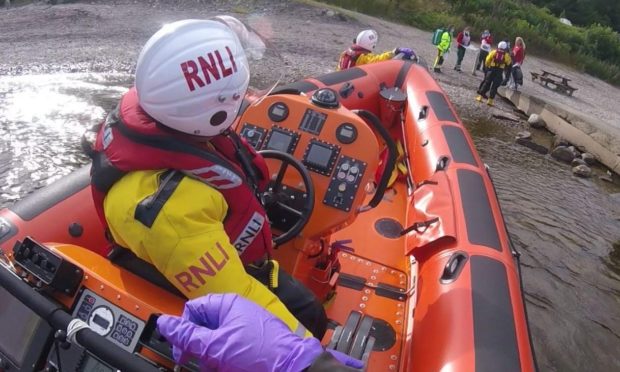 Two teenage boys were rescued after swimming to shore when their kayaks began to sink in bad weather on Loch Ness.
The pair called for help after they became stranded on the steep and overgrown southern shore of the loch.
Police said one was airlifted to safety by the Inverness-based coastguard helicopter and taken to Raigmore Hospital in Inverness as a precaution.
The other was picked up "cold and shocked" by the RNLI Loch Ness lifeboat crew and taken to a waiting ambulance.
The drama happened shortly after 5pm on Sunday when the boys' kayaks were taking in water near Foyers Power Station.
David Ferguson, a crew member of the lifeboat, said: "The boy we picked up was very cold and shocked. He said the kayak had sunk while crossing the loch.
"We were about five minutes getting him to the ambulance, so you couldn't ask for a much quicker response.
"On our way it was pretty rough going, so I wonder if it just whipped-up and caught them off guard.
"The weather can change in a second on the loch and they maybe started out when it was quite calm.
"Thankfully they had brought a phone with them and were able to raise the alarm quickly."
It was the second call out on Sunday for the lifeboat, which earlier escorted a sail boat that suffered engine failure to safety.