The parents of a cancer-stricken toddler have launched a desperate search for a bone marrow donor to step forward and save their daughter's life.
Three-year-old Adeline Davidson, from Alness, suffers with a rare form of blood cancer which affects only one in every 250,000 children.
Her only hope of survival is finding a suitable bone marrow donor.
Earlier this year her parents Steph, 26, and Jordan, 28, were "ecstatic" to have found two viable donors – taking them one step closer to saving the happy go lucky youngster.
However, their world came crumbling down on Monday when consultants told them that both were no longer viable and there were no matching donors left on the register.
The heartbroken mum said the news has left them at a loss – and right back to where they were almost two years ago.
She said: "It's absolutely devastating.
"We got a phone call and I thought it was a date for a transplant, so this was the last thing I was expecting.
"I didn't actually process anything she said until I was off the phone and I just thought 'what on earth does that even mean for us now?'
"It felt like someone had just stabbed me in the gut. It was horrendous.
"We have literally no idea how long we are going to be waiting for."
Sharing the heartbreaking news on social media, the 26-year-old mother of-three said she couldn't "explain the pain" she felt daily knowing Adeline wasn't experiencing life as a normal healthy three-year-old.
She added: "We were ecstatic when we first found out there even was a match because it's a long process and a long wait.
"But to have that taken away from you and to be left with nothing after all this time, I honestly can't explain it.
"Adeline is so happy and a part of me is happy for that, but also it saddens me because I just think she has no idea what she is missing out on."
Mrs Davidson says for Adeline, everyday health problems such as a common cold, virus or sickness bug could be fatal.
If her bone marrow failure is left, it could develop – leading her to become unwell and unstable or develop conditions such as leukaemia if her body begins producing abnormal cells.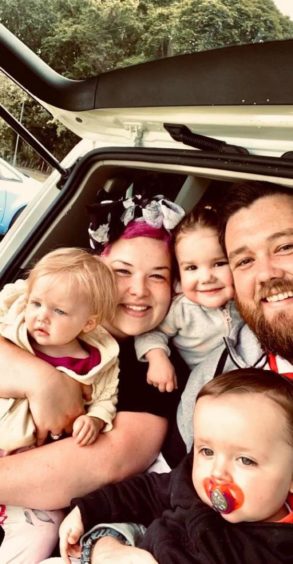 The Ross-shire family is now pleading with individuals to sign up to become a stem cell or bone marrow donor to help save terminally ill children such as Adeline.
Mrs Davidson said: "The only thing that we can do is try and search for this match.
"Only 0.04% of the population are on the register so the facts are against us but I just want more hope.
"I just really hope that people are convinced to sign up and share the word elsewhere.
"It means the world when people say I have signed up because of your story.
"However, many individuals that are signing up, they possibly can't be the match for Adeline but they possibly could be for someone else. There is so many people like Adeline that are waiting for this."