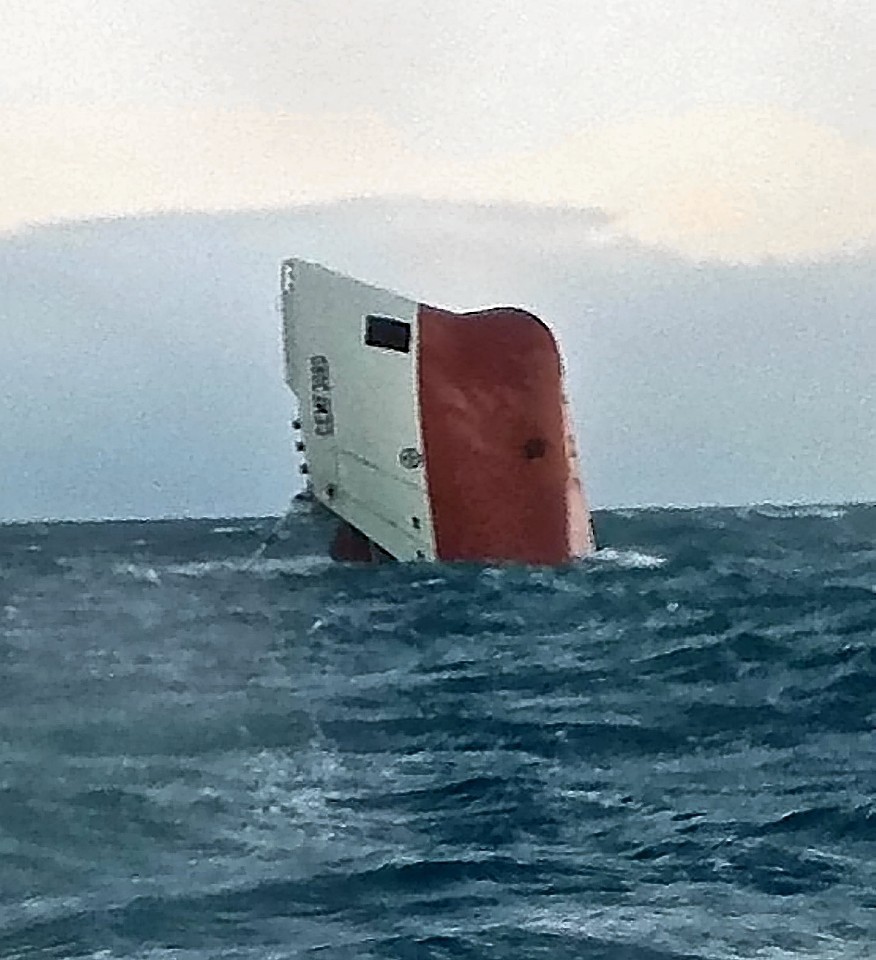 The families of seamen lost when their cargo ship sank off the Caithness coast have scattered roses and laid wreaths on the sea during a visit to the scene of the tragedy.
Relatives of the seven Polish and one Filipino crew were taken to a spot in the Pentland Firth near where the Cemfjord sank in January on Friday.
The private service in honour of the lost seamen was attended by more than 30 relatives, including three journey.
The group was delayed after thick fog closed Wick Airport and the group landed in Inverness and travelled north by coach.
But at about 9.45pm on Friday, the families arrived and were taken out about five miles into the firth aboard the Orkney ferry.
The trip was organised by the ship's owners Brise of Hamburg.
Company spokesman Tony Redding said: "Despite the foggy conditions they managed to get out and it was reasonably calm weather.
"They lowered the wreath and threw individual flowers into the water. The fog actually helped and made the whole thing
completely private. All we could see was a small area of water around the boat. Reverend Tim Tunley, Mission to Seafarers Chaplain, also read out a few prayers."
On Saturday morning a public memorial service, read out half in Polish and half in English, was held at St Joachim's Church in Wick which was attended by about 130 people.
Afterwards, the relatives met with those who took part in the search and rescue operation and the boss of Brise Hamburg, Kai-Erik Clemmenson.
No bodies have ever been recovered from the wreck. The Cemfjord itself will not be raised and is to be left as a sea grave.
Cemfjord, a bulk cement carrier, was last recorded travelling west through the Pentland Firth on the afternoon of Friday, January 2.
Its upturned hull was discovered by a Northlink Ferry the following day.
Mysteriously, electronic devices that should have alerted the coastguard to the sinking did not activate and no distress signal was received from the vessel.
The crew were the master Pawel Chruscinski, 43, chief officer Jaroslaw Orlov, 45, chief engineer Roman Tamas, 56, and seamen Henryk Dubanowski, 55, Tomasz Kwiatkowski, 31, Artur Podrazka, 24, and Artur Wegorek, also 24, all from Poland. The eighth crewman was Filipino seaman, Jerome Narvasa, 32.