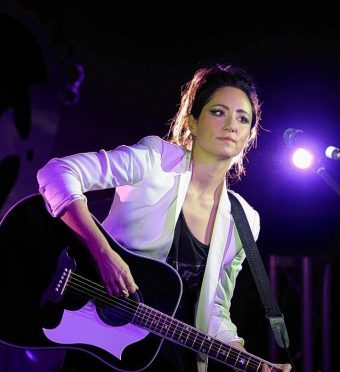 A two-day open air concert in Oban to feature Suddenly I See singer KT Tunstall has received a £17,900 grant.
Oban Live at Mossfield on May 13 and 14 is one of 13 events across the country to be supported by the EventScotland National Funding Programme, as part of VisitScotland's work to deliver the national events strategy, Scotland the Perfect Stage.
In total, just under £32,000 has been awarded to Highlands and Islands Music and Dance Festival – The Highland Fling (Oban April 29 – May 1), Oban Live and Butefest (in Rothesay, July 29-31).
Thanks to the funding the event organisers will now be in a position to develop their events by extending their programmes in order to grow attendance and improve the spectator experience.
Neil Mackay, community director of Oban Live, said: "The support from EventScotland is invaluable not only in assisting the launch of Oban Live but, more specifically, in helping create an infrastructure that will allow more vendors and businesses to trade and benefit from this new event.
"It is amazing for the Oban community to have a major concert arena created in the heart of the town for what will be an incredible weekend of live music, food and west coast hospitality."
David Adams McGilp, VisitScotland regional director, said: "Funding awards from EventScotland's National Programme are extremely important as they allow regional events to develop further and create an even more attractive proposition to their target audiences.
"That means they are not only able to draw increased attendees from their local areas but also from much further afield – promoting an extremely positive image of the venues as visitor destinations and contributing greatly to the region's economy.
"I'm therefore delighted that these three Argyll and The Isles events were selected as funding recipients and I'm confident that the funding boost and the excellent programme each offers will ensure they are a great success."